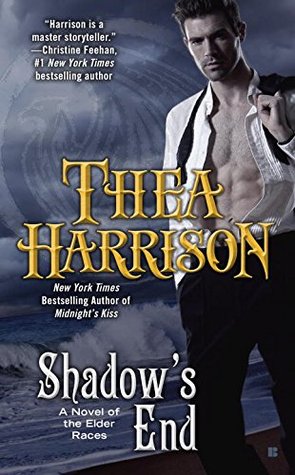 For Beluviel, consort to the Elven High Lord, and Graydon, gryphon and First Sentinel of the Wyr, even the slightest desire for each other is forbidden. But two hundred years ago, after a desperate play to save Beluviel's stepson left them indebted to the cruel Djinn Malphas, they found their fates inexorably linked together—and the hunger between them growing too strong to ignore…
Two centuries later, with their debt to Malphas coming due, Beluviel and Graydon realize that, if they are to stand any chance of saving their souls, they must once again work together—this time more closely than ever before. But every moment they spend with each other brings them nearer to losing something even more vital—their hearts…
Comment: This is most recent installment in the Elder Races series by author Thea Harrison. So far my reaction to these books has been a case of a hit and miss and books #2, #3 and #8 haven't been as amazing as that, in fact book#2 was quite weak to me. But all the others were great, especially book #4, my favorite and books #1 and #6 and #7 were very good. I had hopes #9, this one would follow the more positive trend...
In this book we finally have Graydon's story, he's one of Dragos' sentinels and a wonderful friend if all the books are correct, so it's not a surprise when he decides to ask for some free time to help someone defeating an enemy who has destroyed a lot of dreams..
Beluviel is an elf and she's quite important to her family and demesne but there's a secret she's been hiding and now, after such a shocking aftermath of the recent attacks, including her demesne, Beluviel finally has the tools to look for her own happiness.
But the enemy to defeat is strong and the help of many friends might be necessary...
I had a good time reading this novel. I'm very glad this can be placed in my personal column of the good books in this series because despite one or two things I liked less, overall, this is a very good story to spend time with.
The story starts with Graydon asking for some free time for personal reasons and soon after we go back in time, around 200 years, to the beginning of a relationship no one has ever imagined could be possible. I found the situation slightly unrealistic, considering the amount of time it took for something to be done, although it has to be said it wouldn't have been easy to do things differently hoping for a positive outcome.
But I think my faith in the book was tested when we go back 200 years and spend several chapters seeing what was happening. I must say this annoyed me a bit. I would have preferred to see things less explicit in that time and just have the main couple, Beluviel and Graydon, deal with things now, talking and discussing this now.
This is quite the take on the lovers reunited, which usually is a trope I dislike immensely, but somehow I could get both character's POVs here. Still, their relationship felt rather plain and too smooth to be thought as believable. Not only was their connection too fast and too easy when they met, a sort of insta-love link, but now that they are dealing with everything at last, they are almost too polite about it, sex apart, their feelings feel too bland, too organized...after such a long time apart physically and after seeing the other from afar for so long, I expected a bit more reaction, more attitude, something more passionate...
The plot is very simple. Basically Graydon calls some favors, asks for the help of some known characters to deal with the enemy and kill him for ever, so he and Beluviel could finally get their HEA but also the opportunity to help someone else, a person the enemy was using to control and stop them from being together. The task is quickly staged, the bad guy dies but the good guys also have some losses, one of them I really didn't expect! Not a protagonist, but still..
Of course, in the end all ends well.
The main couple wasn't bad together. But the sparks between them were too thin, too contained. I'm glad they found happiness, but the path towards that, despite rocky for obvious (time related) reasons, wasn't as magical or romantic as I expected.
Individually, Graydon is a great guy but we kind of already knew that, his character is all good things but he's not truly exploited as far as he could.
Beluviel is a great lady too, very elegant and polished, but she isn't very memorable to me, her life and personality aren't anything like Grace, from book #4, which captivated me tremendously.
So, this couple is well balanced but not that amazing.
All in all, this is an easy book to read, one of those we can read as stand alone but obviously it all makes so much more sense if we had read the others first.
I think this is a good series in general, but yes, some stories are way better than others. This one reads well, but the romance is not spectacular.
Grade:7/10