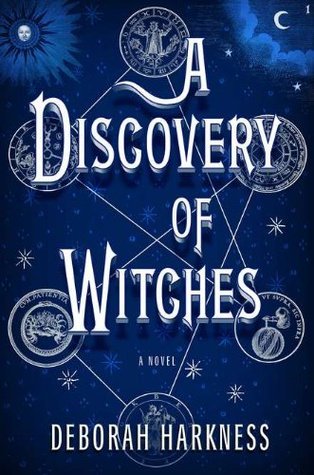 Book one of the New York Times–bestselling All Souls trilogy—"a wonderfully imaginative grown-up fantasy with all the magic of Harry Potter and Twilight" (People)
Deborah Harkness's sparkling debut,
A Discovery of Witches
, has brought her into the spotlight and galvanized fans around the world. In this tale of passion and obsession, Diana Bishop, a young scholar and a descendant of witches, discovers a long-lost and enchanted alchemical manuscript, Ashmole 782, deep in Oxford's Bodleian Library. Its reappearance summons a fantastical underworld, which she navigates with her leading man, vampire geneticist Matthew Clairmont.
Harkness has created a universe to rival those of Anne Rice, Diana Gabaldon, and Elizabeth Kostova, and she adds a scholar's depth to this riveting tale of magic and suspense.
Comment: This is another read included in the TBR Challenge and this month's theme is Something Different which can mean a lot of things, depending on who is reading. The way I looked at it, I've thought about an unusual plot. For that, I picked a reader's favorite by Deborah Harkness (part of her All Souls trilogy), that mixes up paranormal and fiction, considering the amount of paranormal elements but also the history and literary references throughout the whole book. This is not we find that often in books, so there it was for me.
This story presents us Diana Bishop, a clever woman who lives in Connecticut but traveled to Oxford so she could investigate something for her work. While at the library she happens to study an unique manuscript which somehow reveals a spell. Diana, in fact, is a witch although she tries her best to overlook and ignore that.
Because of the manuscript, others start to come after her and she meets vampire Matthew Clairmont, someone who claims she will need help. The two form a special bond which ends up being something no one else would imagine as supernatural beings aren't meant to mix.
But the enemies aren't the only obstacles in Diana's path: what if she can't accept her inner self and her witch heritage?
I liked the book. I think it has enough elements to make it surprising and captivating to read. I don't think it's perfect because of the way the author chose to end it and due to some tactics to develop certain issues, but overall I had a good time reading this more than 700 pages book.
The book is a mix of genres, in a way. It has a lot of literary references, some content that can be perceived as academic and apparently with serious and proved ideas/concepts. The beauty of it all is how all this, which can be considered scientifically content is mixed with the fictional aspects and the paranormal situations and characters, which we wouldn't normally find put together.
In the end, the idea that remains the most I think is the paranormal one, based on historical data and so on, so this should be labeled a PNR I suppose. But it's clear the author had to study a lot to come up with the necessary elements to include and to support some of the ideas she introduces us to. It's also interesting how seemingly easy the academic evidences are included and inserted in the plot. Somehow it all makes sense by the way things are explained, even if we can't fully grasp its meanings.
The easist thing to follow, though, is the fictional characters' lives and actions. Of course the romance that develops between Matthew and Diana has a purpose not only to make us want to read. Both their characters come from different sides in the paranormal reality where the action is set (where witches, vampires and daemons live among humans) and that is supposed to be a no-go but they defy rules because they fall in love.
This added to the search for the a manuscript and its secrets makes it a fascinating story to read.
I think the romance lacks some sexual tension. Yes, they are attracted to each other but their relationship turns clinical and emotional in a way that makes it less thrilling to read about. I'm not talking about wanting to see sex, but to have a better notion of their attraction, because since they met until they told each other they were in love, some times went by but we saw little of how sexually connected they would be, it's not obvious and no matter how linked it can be to the old idea of emotional love instead of physical being better, I still would have liked to see them act more passionate.
Matthew is an alpha character and I confess sometimes he annoyed me. For such an old vampire and having so many experiences, his responses to his natural possessive behavior isn't up to his so called enormous knowledge and experiences of how to deal with people.
Diana also annoyed me here and there...unlike some readers, it wasn't her lack of will to accept she's a witch that didn't ring true - if it were me I think I'd be like her - my issue is more by how easy she accepts some things, being in love included, considering how analytical she is. And Matthew too, in a way.
The plot develops at a slow pace, many descriptions, which can be a turn off to some...I liked all the details about paranormal elements, the secondary characters too. I hope the following books will include more scenes with the characters that helped the main couple and who are part of their family. I think the author did a good job of adding characters as the plot moved along and giving them interest and purpose.
In the end, this was a surprising book, something I enjoyed although it took me a long time to read. I admit there are parts where things don't run as smoothly and I wasn't eager to keep reading but then something happens and it becomes addictive again. Again, I'm against the majority because I preferred the beginning of the story when things were simple and Diana was still fighting her witch heritage and the main couple's relationship was easier and on the seducing stage.
But everything moved along in an interesting way and I'll read the following book because I want to know what happens.
This book won't appeal to everyone (see how far apart some reviews at GR are) but those who acknowledge the book's intent and fascinating content might find it a great read.
Grade: 7/10