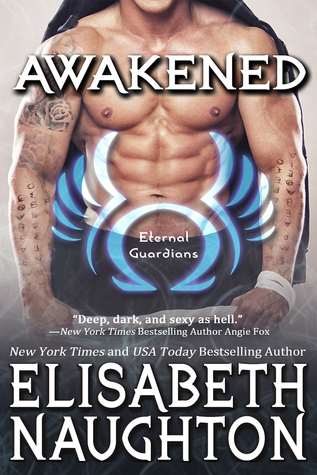 DAMON – For twenty-five years he's served as a plaything for the gods. With no memory of his past, he has no way of knowing if this is his ultimate fate, but he senses there has to be more to life.
Damon's hope for more comes in the form of the Sirens' newest recruit. Elysia is unlike any trainee he's ever met. Not only can she remember where she came from—an ability the Sirens block—but she has an instant connection to Damon, one he's never felt and doesn't understand. Soon Damon is willing to do anything to have Elysia. Even risk the wrath of the gods to break her out of Olympus so he can keep her for himself.
But Damon's past isn't a mystery to everyone. Evil forces are at work beneath the surface, and before long, Damon realizes that the connection he shares with Elysia isn't a random coincidence. His fate—and the darkness it brings—was cemented long ago. And when it is finally revealed, no one will be safe.
Comment: This is the most recent full length installment in the Eternal Guardians series by author Elisabeth Naughton. In this book we follow the adventures of the children of the characters we've met in the previous book. The action in this book starts 25 years after the happenings in the last book, Twisted. I confess I didn't know this and it was quite the surprise...
This story starts by presenting us Elysia, the daughter of Isadora and Demetrius, from book #3. She is angry because her parents, after all they went through to be happy, are actually considering making her bond with someone she didn't choose, only for political reasons. However, things change when she is kidnapped by the Sirens and taken as a recruit to see if she'll be part of the deadly group too.
On the island where recruits must face their challenges, she meets and helps Damon, a sort of slave of Aphrodite that is borrowed to the Sirens as an instructor. Damon welcomes those times because he is bored and doesn't really care for the goddess. But he didn't expect to find Elysia so special and to fall for her...
This book was interesting to read, especially after a certain twist happens in the plot, something so amazing I surely did not see coming but that made me so much more eager to see where the action was going to...
Because the reality is, for me, the beginning of the story was quite demoralizing. After all the other books, after all the things every couple had to face to gain happiness and to overcome the political obstacles the gods and enemies placed in their path, after so long wanting them to have a HEA and finally seeing it happen, it wasn't very positive to see nothing had changed since the last book!
The problems are the same, the characters still face the same difficulties in terms of social/political life, there's no solution to the gods terrible plans and all the conquered happiness feels like a treat and not the true HEA we saw happen. It made me feel rather cheated. I mean, I understand the need to keep up with interesting ideas so the story has grounds to move along, but in a way, why did we have to go through everything? Was it worth anything if things remain the same?
In terms of plot I have to say I was disappointed and still feel that.
What "saved" this book for me was the twist because I was wondering about something but this proved me the author knows her characters and didn't forget the issue conveniently.
What happened after the twist wasn't as special as I may have wanted but at least it made things go forward and characters act again with a purpose. I'm curious to see more "children", now grown up, find their HEAs.
As for this romance, Elysia and Damon are cute together, I especially liked how they met and fell in love, it was both in a seductive and heartwarming manner. I think their connection only gained from the twist but I have to confess I expected them to act more in sync after they admitted their feelings. I don't think personality had a lot to do with this because I feel they weren't as exploited as characters. Maybe because this is PNR and we already have a lot to pay attention to, but it would have certainly make me like them better had they acted more in love or more conscious of their connection in certain moments...
In the end, this was a positive book, I liked how they both took a chance on love but the other character relationships and connections felt too superficial, too easy, too bland... I wanted more bonds, more friendship, more happy or domestic moments to assure us that, despite all the issues, their family would endure all with love and warmth between everyone. I missed that.
But I'll read the next one when it comes out, for sure.
Grade: 7/10