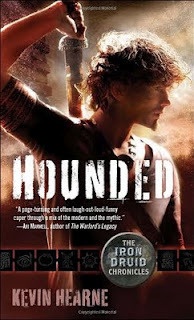 Atticus O'Sullivan, last of the Druids, lives peacefully in Arizona, running an occult bookshop and shape-shifting in his spare time to hunt with his Irish wolfhound. His neighbors and customers think that this handsome, tattooed Irish dude is about twenty-one years old—when in actuality, he's twenty-one centuries old. Not to mention: He draws his power from the earth, possesses a sharp wit, and wields an even sharper magical sword known as Fragarach, the Answerer.
Unfortunately, a very angry Celtic god wants that sword, and he's hounded Atticus for centuries. Now the determined deity has tracked him down, and Atticus will need all his power—plus the help of a seductive goddess of death, his vampire and werewolf team of attorneys, a bartender possessed by a Hindu witch, and some good old-fashioned luck of the Irish—to kick some Celtic arse and deliver himself from evil.
Comment: This is the book chosen for this month's read in my book club. I had never heard of this author and seeing how prolific this series is, I started the book with some doubts, if it was good I would feel inclined to read everything but if not it was easier. How things turned up, however, is that I still don't know if I liked this enough to keep reading.
In this book we meet Atticus O' Sullivan, the last Druid to ever exist. Being an old druid doesn't seem real when Atticus looks like a young man and works at a bookstore in Arizona. When this book starts, Atticus is told an old enemy, an ancient Irish god is looking for him to get the sword - which rightfully belongs to Atticus - he wants back and what should Atticus do? Along with his wolfhound Oberon and a good sized cast of gods and goddesses and witches and supernatural beings, Atticus will use all his cleverness to not only keep his sword but defeat the god that has made him hide so well for all this time...
I'm still wondering how I feel about this book. I mean, I did like it and it was fun to see all the interactions between characters but there's still something missing, which i can't really pinpoint but that doesn't let me say with more conviction that it was great.
I think that the story is well thought, the author has managed to insert countless details about myths and characters from several mythology pantheons which makes this feel very complete. I didn't check all the information given but everything seemed to be credible and that added interest to the plot. It was nice to see all the maneuvers around the plot.
I think that one element I would definitely change is the narrator. I totally understand the appeal and tactic of a first person narrator but I just can't forget how much more information about more important things we could get in that way. And more, when it comes to other characters' motivations or thoughts, it's all nice to see them talk and act in relation to the main character but it's different if we could have access to private thoughts of others too.
I liked Atticus in general. Many say he acts too young for his real age but sincerely, I liked him as he is and that was the least of the details that made me think about going on with the series or not.
I liked the pacing. It was good to go step by step into each situation while still having an idea of the overall picture. Obviously, I liked some scenes/situations more than others and I was entertained for the most part. I just think that some things weren't as seamlessly as the author probably wanted it to be and to me it shows when we have some new information coming at a time where it didn't make sense. The fact we had explanation after didn't make this look "quirky" to me, and was in fact a little bit annoying.
Many people comment on the humor and did find some scenes funny, especially when Oberon was in the area. But I wouldn't say this is a funny book. I do think it's lighter in terms of emotional content than some other UF series out there. It's good, to me, that not everything is life and death and doom in the horizon. But this also means some situations don't seem to have as much importance as they are credited. Maybe it's just my impression.
The secondary characters are interesting, yes. One of the things that would make me want to keep reading is to find out what happens to some of them and if they keep on being key to the plot. And, if I may dream a bit, perhaps they can also evolve emotionally and become more fleshed out and not as mighty-powerful-with-no-care-about-others as they looked like to me here? Anyway, I will hope for it and maybe the next book has the "improvements" I imagine in my head.
I'm not going to get it right now but I'll try the second one day...
Grade: 7/10