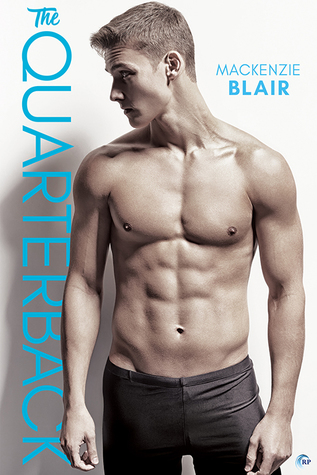 Matt Lancaster is the star quarterback at Bodine College, a small Southern Division II school with an ultra-conservative Dean of Athletics. Matt is also very much in the closet, and he thinks he's kept his secret well hidden. Until his best friends take him to a happy endings massage parlor and request a male masseuse for him.
In walks Trevor Kim, a gorgeous, pierced, tattooed fellow Bodine student who does massages—without happy endings—to pay for school after his family kicked him out for being gay. Trevor takes one look at Matt and breaks all his own rules about mixing business with pleasure.
Matt needs to keep his scholarship, win the National Championship, and survive his asshole father. Instead, he falls in love. Trevor needs to accept that the football god is meant to end up with him rather than a perky cheerleader. It's time for a happy ever after for both of them.
Comment: I got interested in this book last year, not only because I like the m/m sub genre but mainly because I've read a review here and there and they seemed to present a good picture of this story so I thought I'd want to try it. And I'm glad I did!
In this story we meet Matt Lancaster, he's a senior in the university, he has a scholarship and what makes it possible is his football playing, he's the star quarterback of his team. However, Matt is in the closet and he feels he has to hide himself because not only does he have a controlling homophobic father who might separate him from his younger sisters but he is also attending a conservative college in the south.
His close friends though, see right through him and decide to "give" him the chance to be relaxed with a guy, which means a trip to a spa/massage place that is known for their "special" treatment if requested.
Trevor is also a student at Matt's university, he's out but he's not much into being obvious since he's suffered in the past from bullying. His family has expelled him from home and now he works hours in the massage place to help pay the bills of his tuition. Both feel very attracted to one another when they finally meet but will there be any future for them if others know about their friendship and how they met?
I really had a great time reading this. I liked the main characters, I got to be interested in their plights and I understood their reasoning to behave the way they did and for the most part I felt I couldn't put the book down or it was very difficult to stop for chores and work.
This was not a perfect story because some characters were difficult to imagine and there were some cliché situations but to be honest, I could put them aside and just enjoy the story.
The secondary characters weren't all very appealing to read about but I could more or less not focus on them and simply appreciate the better parts.
I think the detail I liked best in this novel was how slow but sweet and sexy was the relationship development.
It was slow because they actually felt embarrassed at first and they weren't certain about the other's feelings and this gave me the sense some time was passing before they took the step to conscientiously kiss or touch one another. The time they too to know one another was cute and all the sexual tension between them before they even admitted they were as attracted to one another felt very well done.
The relationship is sweet, that's for sure, I liked how they took time to go one more step towards being together. It felt their feelings were slowly growing stronger the longer the time they spent together and that was very sweet indeed. Socially, their relationship was more complicated because of the environment created at their university, very against diversity and although nowadays one can say things aren't like that anymore, the reality is that they are. There is still prejudice, even among young generations. This aspect could be seen obviously in some situations, in why the guys just didn't assume things when they realized they were in love...
Both guys had terrible parenting, especially when it comes to their views on homosexuality. I could feel empathy towards both, although their situations were different. Still, how complicated it can be to deal with this in real life where those who should be your biggest help actually scorn you? Some scenes, although not melodramatic, were sad and gave food for thought (to me at least).
Both Matt and Trevor, the main couple, were likable people. They didn't have all the answers, they weren't always smiles and rainbows but they talked and mostly compromised and I liked them together, I liked how they felt in sync with one another and cared for the other.
All in all, this was a positive story for me, it was fun and sweet at times, sad in others but it was to be expected, but there's a HEA at the end and a cute epilogue, not too sugary. For me, a good one but I see why some readers might have found some details less engaging.
Grade: 8/10