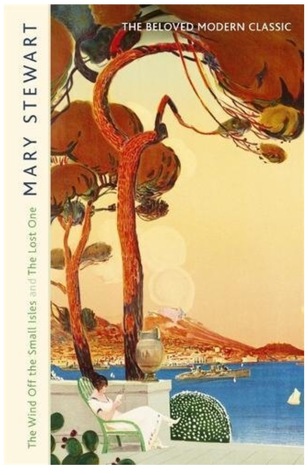 Mary Stewart's new story is lit with the special magic of people and of place that are the hallmarks of a famous author's best work. In a series of deft brushtrokes she brings her heroine, Perdita—a beautiful twenty-three year old—to vivid life. A secretary to the redoutable children's novelist, Cora Gresham, Perdita's job carries her to the Canary Islands in search of local colour for a new masterpiece, and a peaceful house in which to write it.
But the house is already occupied—once by the past, and the haunting memory of what happened there a century ago; and now by its present owners—very much alive—a famous playwright and his research assistant, Michael. In the fierce beauty of the volcanic landscape, in the persons of Perdita and Michael, past and present meet, violently. The weird, semi-deserted island of Lanzarote is the scene for the collision which reshapes the lives of the young lovers, as it did a hundred years ago.
Comment: I purchased this book after seeing a bargain in one of the sites where I usually buy books. I already had a book by this author in my TBR list but since this was at a good price, I ordered it. I confess I didn't investigate well and was surprised it was such a small book but now that I have read it, I couldn't imagine it differently.
In this book we have two novellas by author Mary Stewart. The common detail between the two is that the protagonist is the same in both novellas but apart from that there doesn't seem to exist any other connection and I couldn't "see" how much time must have existed between the events of one novella to the other but that didn't seem to matter much.
In the first novella, the protagonist Perdita West - who works as a secretary to a writer - sees herself on the isle of Lanzarote with her employer, so she can find some inspiration. However, Perdita is the one discovering quite a surprise.
In the second novella, Perdita is driving with her mother in the next seat and their car has some issues and breaks down. They are in a quite isolated area but they seem to glimpse a light and when they close to it they find a house and think they get help. The house, however, seems to be empty until they finally meet the family inside but there isn't much sympathy from the occupants...
This was the first book I've tried by this author. She is a recognized name among the romance readers and it seems her style and stories have many fans. I was quite curious to discover more about her type of books and starting with this shorter novellas seemed to be a good idea, especially because her prose is beautiful and a pleasure to read.
The author has a talent to write in a way that even a small sentence feels richer and more complete than many other full length books. The writing style is appealing and feels complex as if every little detail had the upmost importance possible for our understanding. At the same time, this means it can be difficult to follow some things we if don't pay attention to everything. I got the feeling this author uses all the words in an necessary manner, and nothing is there just to fill up space, all sentences have a purpose.
There are two stories in this volume and Perdita, the protagonist, is the common thread. I have not investigated to see when each was published so I could understand the timeline of both stories regarding Perdita's life. I also think this is only a minor detail but it would be interesting to know, that's all.
Both stories seem to have a suspense feel to them, and I think the author has conveyed this "urgency" feel that something would happen if one kept reading. I liked this aspect and thinking about it, it's probably the element that allows the stories to hold our interest the most.
The first novella is set on the Spanish island of Lanzarote and focuses on a tale about two lovers who eloped and the girl was from a rich family but they have never heard from her again. Perdita manages to discover what happened while we, the reader, follow along while fearing Perdita might be stuck in an underwater cave.
The second story is set in England and shows Perdita and her mother looking for help in a house after their car broke down. At first, the house seems empty but when they realize it was not, the atmosphere is tensed and weird.
I thought both stories were intriguing, I preferred the whimsical idea of the first one but the second gave me the creeps for a while and I can't imagine going alone in the dark to a foreign house not knowing if I could find help. Nevertheless, both offer intrigue, adventure and a certain secretive feel that can be quite captivating.
As a first attempt, I must say I like the writing style, I liked the characterization... but it shows this author was writing decades ago. This is not a critic per se, only an observation. I do think the stories aren't easy to focus on initially but after a while it becomes easier especially if one gets used to the prose. I'll definitely read more by her in the future.
Grade: 8/10