Dirt-poor, sensitive as poets, and proud as kings, the Powell family has lived on a Georgia mountaintop for generations. Then, during the 1960s, young Ursula Powell's father convinces the Tiber family, owners of everything in nearby Tiberville, to commission a huge iron sculpture of a bear for the town. Decades later the strange sculpture--rejected by the townspeople and left to rust on the Powell farm--symbolizes a family's failure and thwarted dreams. But, unknown to Ursula, it is now worth such a huge fortune that the artist's embittered son, Quentin Ricconni, is coming to reclaim it ... and to change everything Ursula believes about the past, the choices that break
a heart, and the redeeming powers of art and love.
Comment: Once again, I'm delighted to have read another book by mrs Smith. She is indeed a great storyteller and every book is a fantastic path throughout discoveries towards love and sometimes redemption. This On Bear Mountain is another example of her way with words, and although I didn't like it as much as other books, I still consider it close to perfection. The thing that separates it from other favourites is the fact there's so much negative things happening, the good things didn't feel like over balancing the scale to make it a happier book. I still think on what went wrong and the romance, still perfect and meant to be as always, also was a bit weaker then some of the other I previously read. Still, this author is one of my favourites this year.
* * * *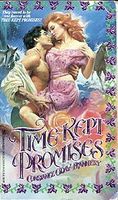 A DISTANT PAST; Kristine Gavin was depressed about turning thirty until she received a most unusual gift from her brother. It was a portrait he'd found in the attic of their family home in Virginia, a portrait of a woman who must have been their ancestor; judging from Kris' resemblance to the beauty. But it wasn't the painting that intrigued Kris....And old newspaper clipping about the woman's strange disappearance caught within the frame drew her in. Just as Kris was uncovering a fascinating secret from the past she sensed a change in the air-and found herself thrown back in time into a strange room, staring into the eyes of the sexiest man she had ever seen!
AN UNCERTAIN FUTURE; Sean O'Mara froze when he saw his wife Christia standing before him. She had vanished and the news had written about in all of the papers-he had been charged with her murder.
Comment: I enjoyed immensely the two previous books I had read by this author, Timeless Passion and Timesweapt Lovers, books I've read a long time ago. In this books, the author introduces time travel and one of characters (usually the woman) must live in a different century and falls in love. The books were written mostly in the 80's so it's interesting to see the atittudes and behaviour and even cultural references to those days and then the change to a faraway century. It's always a captivating story, I think.
However, I preferred the two other books more because in them the couple ends up living in the past, and there's like a whole different set of rules of those times, things I enjoyed seeing. In this book they end up in the present and I was happy to see them have a HEA, yes, but it's a bit of my own wishes to like more the other way around so...
I liked Kristine and Sean and the evil wife plot and of course the scenes where the change of century affected the character's attitude, but the fct they travelled to the present really disappointed me a bit, I was expecting the opposite based on the previous novels.
Anyway, I have three more books by the author..I'll eventually read them as well.