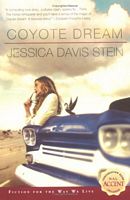 Smart, sophisticated, urbanite Sarah Friedman jumps at the chance to journey to the Southwest to buy American Indian art for her family's successful Manhattan store, determined to set aside personal disappointment and seek new perspectives in the serenity of the vast desert landscape. When her car breaks down on a remote part of the Navajo reservation, fast-paced Sarah finds herself stranded in a slow brown world.

After years of turmoil, Ben Lonefeather has finally gained control of himself and his life. Solitary, self-sufficient, and tightly wound, he devotes his time to work and caring for the coyotes he rescued as pups. The intersection of two lives that would not ordinarily have crossed for more than a moment deepens into a connection that leaves both of them passionately alive and profoundly changed. Within a layered collision of cultures, Coyote Dream explores the tension between society's surface and nature's undercurrent
.
Comment: This book's synopsis intrigued me a lot when I first read it. So, after looking for the book - as it is out of stock - and getting it, I decided to read it last month. I wasn't disappointed at all.
Sarah travelled to look for art from the native americans like her father used to do and while doing it, she met and fell in love with Ben. The two of them weren't expecting to feel that way and separated mostly because their cultures seemed to be too apart to allow a happy ending.
However, Ben is an artist and soon he goes to New York, where sarah lives, to show his art in her father's gallery.
I must say I liked how things were done, there was a confortable pace in the action, and the characters have deep but not too much to make them boring.
I especially liked how the two cultures interwinned and in the end it's not what you are that will make you happy, it's who you are. The end of the book was perfect, something that makes me smile even after finishing it.
i totally recommend it
.