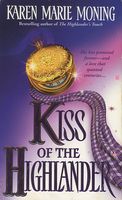 Enchanted by a powerful spell, Highland laird Drustan MacKeltar slumbered for nearly five centuries hidden deep in a cave until an unlikely savior awakened him. The enticing lass who dressed and spoke like no woman he'd ever known was from his distant future, where crumbled ruins were all that remained of his vanished world. Drustan knew he had to return to his own century if he was to save his people from a terrible fate. And he needed the bewitching woman by his side....

Gwen Cassidy had come to Scotland to shake up her humdrum life and, just maybe, meet a man. How could she have known that a tumble down a Highland ravine would send her plunging into an underground cavern--to land atop the most devastatingly seductive man she'd ever seen? Or that once he'd kissed her, he wouldn't let her go? Bound to Drustan by a passion stronger than time, Gwen is swept back to sixteenth-century Scotland, where a treacherous enemy plots against them ... and where a warrior with the power to change history will defy time itself for the woman he loves....


Comment: The 4th book in the author's highlander series. I've heard so many comments about this book and on how funny it was that I expecting something close to a comedy but I didn't find it that laughable. Anyway, the story follows Gwen in her quest to loose her virginity. Right away I got a bit mad, come on, like all virgins are in a lust eagerness out there...hum, but ok, this character was looking for it. Then she meets Drustan and things start to look interesting and I was devouring the book wanting to know more about his past and how he would end up in the future (which he did) and then things change and they go back to the past. I liked it a lot, I love to see characters from the present to go back and adjust to new rules, new settings...it's something I particularly like.
I won't tell spoilers but obviously things work out in the end and I'm looking for to lnow more about that family of his and especially more about the legends and the fae interections.
2 things I didn't like: The book ends up in the present/future, whatever. I prefer when they end up in the past or with the ability to travel, like it happened in the 3rd book.
Then Gwen's take on virginity, well, it's something that bothers me a lot, virgins in books have two options: they are por innocent girls ready for scoudrels to seduce or they want to get rid of the "burden".
I get that people can do and think that but what about all the others that are confortable being virgins and are in no rush to have sex? Yep, they have to suffer from some trauma... (rolling eyes).... well, I'd love to read a novel where the virgin girl just doesn't see the need to have sex with the guy in the first 5 pages...
Apart from these two (personal) critics, I liked the book and managed to put them away in my brain and enjoyed the book and can't wait to read the next one.