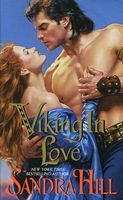 She said . . .
Caedmon of Larkspur is the most loathsome lout I have ever encountered When my sisters and I arrived at his castle, we were greeted by servants and children running wild, while Caedmon lied abed after a night of ale. No doubt there will be another child soon, because I must admit he's as handsome as he is virile. And I must endure him, for we are in desperate need of protection, though I can only imagine what this knight will demand of me in return.
He said . . .
After nine long months in the king's service, all I wanted was peace . . . not five Viking princesses running my keep. And the fiery redhead who burst into my chamber that first morning is the worst of all. Why, I should kick her out . . . but I have a much more wickedly delightful plan for Breanne of Stoneheim, one that will leave her a Viking in lust.
Comment: This author was the first one I read with the theme time-travel. I still things she does it beautifully, the only thing that bothers me is the language sometimes but I get it, she tries to respect the time.
In this book we see some previous characters and know how they're doing, which is always a good think in my book. I like to keep updated with the characters, it makes the world much more close, more tidy, it gives a sense of continuity and i like to think it's like a big soap opera and I like to know how the beloved characters are. She does this quite well.
Breanne and Caedmon aren't my favourite couple, but they have chemestry, I wish I'd seen a bit more struggle from her part, but I knew what I was getting when I got the book, so... The romance could be better, i think, but these books are good to relax and I still enjoy them, even if they don't show much seriousness.
The plot is too obvious, but still entertaining. I wouldn't say it's a bad book, because it makes it purpose...but of course the author has done better. I hope the next one is like that, better.