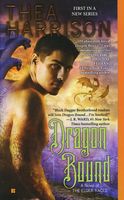 Half-human and half-wyr, Pia Giovanni spent her life keeping a low profile among the wyrkind and avoiding the continuing conflict between them and their dark Fae enemies. But after being blackmailed into stealing a coin from the hoard of a dragon, Pia finds herself targeted by one of the most powerful-and passionate-of the Elder races
.
Comment: I loved this first book in a new series. It has all the things I love in a book: good characters, an interesting and developped world, secondary characters that aren't there just because, misterious tidbits about each character, a good plot and of course, great romance.
I loved the world, the whole idea of all the mythological creatures walking and living among humans. Plus, I loved that the author included beings we don't usually see even in paranormal, like the gryphons and the thunderbird. I can't wait for the next books, I need to read more about that amazing world. Even if the romance lacks soemthing, if the worl building keeps up like this, the series is already a winner.
About the romance in this book, I liked it, the pace wasn't too fast, which allowed us to enjoy the character's falling in love slowly. Then the things about them were also slowly showing up and the end was sweet. I liked everything that happened to them in the book.
The world also presents a fresh voice in interection between characters, for instance, they talk! Like, secondary characters aren't there just to fill up space, I liked the dialogue but much more the fact it existed in the first place.
I can't wait for the next one.