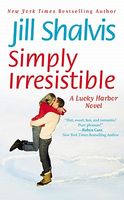 Maddie Moore's whole life needs a makeover.
In one fell swoop, Maddie loses her boyfriend (her decision) and her job (so not her decision). But rather than drowning her sorrows in bags of potato chips, Maddie leaves L.A. to claim the inheritance left by her free-spirited mother -- a ramshackle inn nestled in the little coastal town of Lucky Harbor, Washington.
Starting over won't be easy. Yet Maddie sees the potential for a new home and a new career -- if only she can convince her two half-sisters to join her in the adventure. But convincing Tara and Chloe will be difficult because the inn needs a big makeover too.
The contractor Maddie hires is a tall, dark-haired hottie whose eyes -- and mouth -- are making it hard for her to remember that she's sworn off men. Even harder will be Maddie's struggles to overcome the past, though she's about to discover that there's no better place to call home than Lucky Harbor
.
Comment: My first attempt with this writer.
This is a good contemporary book, and it certainly offers a lot of interesting scenes, especially between thr main couple. It also gives tidbits about incoming romances, which is always a good thing because it makes us eager to read more. I think the overall "feeling" the book gives is ok and I wish I could travel to someplace quiet and near the ocean, I think there's nothing wrong with the author's descriptions.
My problem with the book is the rushed romance. Please, they meet and one r two days later are already kissing and feeling something? This would be ok, if they were unaware of what it might mean, but as we read fro their POVs we see both of them are actually falling for the other...I think it's a bit too easy to believe.
Then, the thing that really bothered me...Maddie, the main female character starts the novel saying she had too much from men and wants to stay away from them. The next day she's making out with the main male character..oh wait, that same night! I thought, ah to be expected she wouldn't resist him, but then something happens and there she is, swearing off men again. Oh but he is irresistible and they kiss but then one more time she says no can do with guys but the next time they meet ...you get the point.
She wasn't sure of what she wanted and I'd buy that if she sticked to her point, perhaps with the inevitable falling in love too, but not like that, with so much inconsistency. I understand some of her reasonings and why she is that way, but her behaviour doesn't completly match someone with doubts.
I liked reading the book, but I didn't love it.

I'll read the second one when I can (I have monthly lists and like to follow them) but if it disappoints me, I'll cross the author from my list...