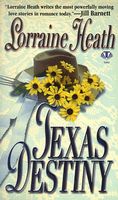 Arriving on the Fort Worth train, Miss Amelia Carson, mail-order bride, had never met Dallas Leigh, the Texan she promised to marry. The tall cowboy at the station wasn't Dallas. He was Houston, Dallas's brother, sent to escort her on the rugged three-week trek to the ranch where Dallas waited. Brought up in war-ravaged Georgia, Amelia thought Dallas's letters made Texas sound like heaven, a place for her dreams to grow with the right man beside her....

By all appearances, Houston Leigh would hardly be considered the "right man". The war he survived had scarred him inside and out, and he was little competition for his handsome brother. But from the moment Houston met Amelia, he knew she possessed the courage this wild land needed. She had eyes that could see past his wounded face to his soul. And he would fight any man - except his brother - for her heart...Now he and Amelia were riding down dangerous trails, sleeping under the stars, and God help them, they were falling in love...
Comment: One of the best things about romance novels is to see the couple understand they have feelings for the other and more than seeing them confirming it, it's great to see them accepting it and even better to watch it happen.
In this book, this is so and I loved seeing how a situation that seemed too complicated to deal with would be solved.
Amelia is a very likable character because she falls for a man with scars but accepts it and even welcomes it, I'm not sure many of us would have the courage to see things like that.
Houston is a man without hope but it's so good to read things from his POV and see he's really falling for Amelia. Also, I like historicals because these books offer a valid reason for the couple not to have sex right away, and in this story's case, also because they are both honored characters and wouldn't act behinf Houston's brother's back.
I really liked how the story developps, and all the scenes with Amelia and Houston waltzing among their feelngs for each other and how impossible it all was...and in the end it was with a huge smile I saw their HEA happpen.
I'll certainly read the rest of this trilogy and perhaps even other books by the author.