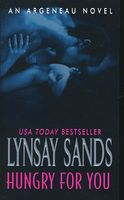 As one of the most ancient in the Argeneau clan, Cale Valens has given up on finding a life mate. His friends and family, however, have not. In fact, they believe they've finally found his perfect match. Getting them together, however, requires one little white lie ...
Alexandra Willan is in a panic. Her restaurant is due to open in two weeks, but her chef just walked out. Then a highly recommended replacement arrives, an impossibly handsome culinary genius who sends electric tingles racing through her body ...
Except he can't cook. In fact, Cale hasn't eaten real food in two thousand years. Yet he's determined to prove to Alex his prowess in the kitchen ... and elsewhere. Because never has he hungered so for any mortal woman. And not just for a taste of her, but for the whole delicious feast!
Comment: I liked this book much more than the previous one. It brought back several characters from other books, and it was fun to see them. I also liked how the news of vampires were given to Alex, although her reaction and acceptance appeared too fast to be realistic. the romance was good and they had chemestry which contributed to make things seem more believable.
I think it was a nice new installment in the series.
She's turned her family's Georgia apple orchards into a booming enterprise, kept hidden the painful truth about her late husband and their marriage, and sent her son, Davis, to Harvard. Nothing, it seems, can faze Hush McGillen. Until Davis speeds home from college in a cloud of dust, Secret Service in hot pursuit, to present her with his new bride--the daughter of the President of the United States! Suddenly Hush's carefully ordered life is thrown into chaos. Reporters are crawling everywhere, the First Lady's temper is showing, the newlyweds are fighting...and federal agent Nick Jakobek is getting under Hush's skin. With the scandalous elopement the talk of the nation, it will take a bold move on Hush's part to save her reputation, her family, and her business. But when unexpected love strikes, nothing will be able to protect her heart.
Comment: I loved this book, much more than the previous two I've read. This story focused on a different set of rules and issues and it was a good variation from the usual things the author puts in her books. The story was both funny and tender and I liked the fantasy government there. I think it was a fluid story, not so "dark", and allows the reader to enjoy it more. I mean, I also shed a tear here and there but I wasn't consummed with bad feelings because of what was happening. A very good story.