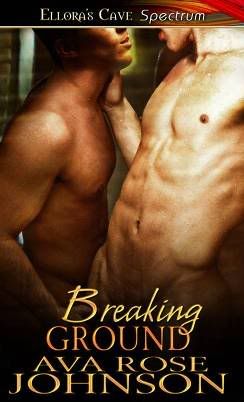 Buddies since kindergarten, Ray Jenkins and Eric Richards have never crossed the line into a sexual relationship. But when Ray breaks the news to Eric that he's leaving for war, their friendship suddenly slides into something deeper, and what's intended to be a guys' night in turns out to be a guys' night in bed.

Two years later, their one night of hot sex is a distant memory and having heard nothing from Ray since his abrupt departure, Eric can't believe it when his old friend shows up. Using his mouth and his hands, Ray makes it clear how much he still wants Eric, and unable to resist, Eric falls right back into Ray's bed. But fear that Ray will leave again holds him back, and despite the passion growing between them, Eric can't let go of the pain he suffered while Ray was gone. Ray has to convince him that this time 'round he's not going anywhere or else their burgeoning relationship will be over before it has the chance to begin.

Comment: This book wasn't what I thought. It's well written, sure, but the story didn't make an impression on me.
To summarize things, guy is straight and is going to war but has gay night with gay best friend, tells him to get out and leaves to war. Returns years after knowing the gay friend is the one. While trying to convince gay friend to be his everything shares him with gay friend's roomate in an menage à trois.
Huh?
Ok, someone has doubts and actually has curiosity to try a gay relationship, gets confused, there's the usual mix-ups, but after two years that guy is the one and in the, say...path to discovery, must try someone else just to make sure oh and have the one at the same time? I was surely not convinced.
The blurb seemed promising and I pictured some possibilities in my head of how the story might developp, but in the end I was just too numb to care, I mean, the characterization and writing are well done, but the realistic part of things seemed too much "created", it sounded fake. I guess there's people in the world who behave like that, but honestely this isn't what I like in my books. I like my gay books the same way I prefer all the others, with a touch of romance and this one didn't captivated me.
I don't think the protagonists were breaking ground, they were experimenting and they had doubts. But I wasn't convinced of their feelings, I didn't feel urgency or chemestry between them.