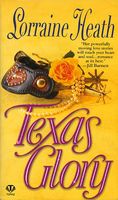 SHE WAS GIVEN TO A STRANGER
Cordelia McQueen was a virtual prisoner in her father's house. Until everything changed when she was shamelessly traded in a battle for land and water rights, and thrust into an unfamiliar world as the bride of Dallas Leigh.
HE BELONGED TO THE LAND
Dallas had given his life to the land. Now he aimed to put West Texas on the map. But as he gazed into the eyes of the lovely stranger who belonged to him, he caught a glimpse of another ambition--a warm, radiant desire of the heart. Was this the woman who would walk beside him as, together, they carved out a rich future with all the promise of love?
Comment: Lots of people say the first book in this trilogy by Lorraine Haeath is the best, but personally I liked this second one much more!
Dallas was a character in the first book I cared about and felt sorry when his dream marriage ended because he wasn't in love with Amelia anyway. I think he would be a very good hero and not reluctant liek we see so many heroes in romance novels.
Cordelia..I liked her from the first moment, since she was afraid of even walk with her head high until the very end. I liked how realistic she seemed and how her fears were legimit and the author didn't rush things between them, making Cordelia a passionate woman just because.
There was a fine balance between Dallas and Cordelia and I liked seeing how they slowly, one scene at a time, fell in love.
The book overall offered everyhting one hopes for in this kind of romance but I must confess I felt a bit sad because of a certain thing that happened, right at the moment everything was so smoothly well. But we learn with everything and I believe Dallas and Cordelia are stronger characters because of that.
One thing I enjoyed was seeing the previous characters all there. I always like to see what is happening to beloved characters.
One thing happens in this book that sets the action to the third and final book, Austin's. Can't wait to read his story too, next month.