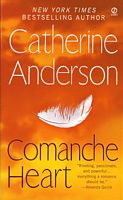 Forced to flee her home on the windswept Texas plains, Amy Masters sought sanctuary in the golden hills of Oregon. There she began a new life, but could never forget her pledge to Swift Antelope, the magnificent Comanche warrior who had captured her heart.
Then Swift, now a notorious gunslinger whose murderous reputation was known throughout the West, found her. He vowed never again to lose the proud, sun-kissed beauty who haunted his dreams, and he swore to make her honor her sacred promise. But could he make her believe in his love and yearn for his caresses?

Comment: This is the second book in the author's Comanche series. It's the story of Amy and Swift, two characters from the previous novel. In that one, they were young and Amy had just gone through an horrible situation and Swift was there to help her and be her friend.
In this story both of them are older and lived apart from each other for 15 ears, which is a long time so it's understandable why Amy fears what might happen if Swift wants to revive their commitment promises from before.
I have to say this story is weaker than the first one, and I feel that happens because the differences between them don't seem to be as important as they were to the first couple in the previous book. I think the most important issue here was Amy's past and how she wold have to overcome that to be happy and to achieve happiness she has to accept Swift.
I think these books have too much drama. I mean, I know things aren't meant to be pretty and easy for them, but I don't know, there's a whole sense of doom in the horizon, even when things are well, it's a strange feeling. I can't help to compare it to her contemporaries, which I love, I guess it's the time that doesn't work, or she's just better in portraying women from this century.
The same thing that made me sadder in the previous book happens int his one: I wish the action would be set in the Comanche nation, that they would live with the Comanches instead of white people. It's obvious the dynamics of the story would have to be different, but I think it would work out better.
This doesn't mean I didn't like the book, I did enjoy reading it, but in the end I felt a bit sad, not because of how it ended but because of some things that happened.
Anyway, I'm looking for to read the 3rd one next month.