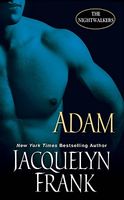 Hunted by magic, beset by evil, the Nightwalkers face their darkest hour yet. And when the unthinkable happens, only one legendary male has the power, the will, to save them: Adam...
For 400 Years He Was Lost To Her, But He Is Hers Tonight...
From their first tantalizing touch, Jasmine knows he is different. What other lover could unlock her tight control, flood vampire senses jaded by a lifetime of decadent self indulgence? Centuries ago, when he disappeared without a trace, she had given up hope of ever fulfilling the promise of incomparable passion. But here he is, against the very laws of nature, ready to bring down their most vicious enemy, ready to bring her blood to the boiling point...if she will only let him
.
Comment: I was very happy to see the author would be coming back to the world of Nightwalkers, a series I truly enjoyed. She made a pause of two years since the last book, Noah, was released. Noah is my absolutly favourite so it was with both eagerness and trepidation that I pre-ordered this one and hoped for more of those characters.
When I started reading I got the shock of my life, I can't believe the author went through that path! I was getting more and more depressed as the pages went by. I mean, she did something completely...shocking. There isn't a better word for it. However, things started to happen and in the fight against Ruth (one of the villains we knew from the other books), something radical happens and I finaly understood where the author went with this.
I can't I enjoyed it, though. In the end we have a HEA, but it's not like I thought it might be. Sure everyone ends up happy, but after reading soem not so good things, I can't avoid thinking about them and I admit it ruined things a bit for me.
I'm a bit disappointed, the romance between Adam and Jasmine was meant to be the focus but considering what happens in the beginning, I didn't think of them as the major issue in the story.
I'm still not sure what to say about this book...I think all the delicious feelings I got while reading Noah, even despite some bittersweet stuff that happens there, all that was gone in this book. I won't say more, because I could enter into spoilers, but personally, I am sorry to see the series like this. I liked the other books so much, and it's not exactly this book itself that is bad, because someone who never read the others certainly gets an interesting read out of this one, it has a plot and a romance, but...to me, this book just ruined the whole experience a bit.
I think the bigger part of me thinks it would be better if the author doesn't continue the series, it would have been better to have stopped with Noah actually.
Anyway, like I said, as a randomly read book it's ok, for for those who expected some close to Noah...it's not that good, not even close.