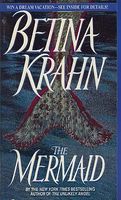 If Celeste Ashton hadn't needed money to save her grandmother's seaside estate, she would never have published her observations on ocean life and the dolphins she has befriended. So when her book bursts upon the London scene, making her an instant celebrity, she is unprepared for the attention...especially when it comes from handsome scientist Titus Thorne. While Titus suspects there is something fishy about her theories, Celeste is determined to be taken seriously. Soon their fiery clashes create sparks neither expects, not least when Celeste dares Titus to let her give him a personal tour of the world she knows so well. But when a shady entrepreneur takes too close an interest in Celeste's work--and Celeste--Titus must decide if he will risk his credibility, his career--and his heart--to side with the Lady Mermaid.
Comment: I decided to read this book because I saw somewhere that the heroine wasn't perfect and was poor. I said many times I like this premise because of the possibilities it allows in terms of plot.
Anyway, I bought the book and this month gave it a try. The story is about Celeste, a young woman dedicated to the study of dolphins, she has made friends with a group of them, near the place where she lives and to earn some money seh published her theories. However, this a time of science only for men and she is invited to talk about her work but only because the gentlemen hope to mock her. Enters Titus, a scientist too, and in a debate he provokes Celeste but she strikes back and demands he sees for himself that everything she wrote is true.
Then he goes to her house and learns that not only her theories were correct but her personality and heart are much more beautiful than just her appearance.
I liked the story enough. I don't think it has spark, that sense of recognition between characters, although some scenes with them seem to be rather well done. I think a little bit more of passion would be welcome, especially if they would care for the society rules of that time...the thing is, celeste is a bit of a free spirit, even if a sweet, caring one. She takes her clothes in front of anyone when she swims to be with her dolphins..I find this a bit too much to accept in an historical...
Apart from little details, I actually enjoyed reading the story and couldn't wait to read more. I confess it wasn't either the best romance or the best historical, but it entertained me enough. I recommend it but only if you're not looking for historical accuracy.