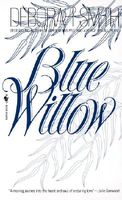 There had always been Mackenzies and Colebrooks at Blue Willow, their histories entangled like the graceful branches of the rare willow trees that thrived there. Artemas Colebrook and Lily MacKenzie shared more than that history, their souls bound to each other and to the land the day the boy held tiny Lily minutes after her birth. But the tragedy that has brough Lily back to the small farm where she spent her childhood has also made Artemas's brothers and sisters her bitter enemies. Torn between family loyalties and their shared sense of destiny, Artemas and Lily must come to terms with a childhood devotion that has turned to bittersweet desire, a passion that could destroy all they have struggled for--even Blue Willow itself.

Comment: I'm almost out of books by this author to read. I know she has many more, including the ones by her pseudonyms, but to be honest I don't want to try them, I don't want to risk the chance I might hate them and thus ruin part of the experience that has benn reading such great stories. This soubds rather silly, but when we like something isn't it valid to want to hold it in our hands?
Anyway, this month I've read Blue Willow. I was told it was sweet and I thought it would be the best for christmas time. I liked the story and some scenes stay with me yet, like in most of her books, but it had a certain heaviness that stopped it from being too sweet.
Lily and Artemas know each other since they were kids. They've been in love for a long time, but their lifes aren't that free and they have to deal with waht they have. Life keeps them apart even when they are together. I think their lives combined have way too much tragedy, but at the same time...we only value things when we loose them or when they are taken from us, so I don't think it's that ludicrous to think it could happen.
Strong points in the story: the relationship between the brothers and sisters and their personalities. They are unique but they care deeply for each other and it shows. I liked this a lot. Artemas and Lily are a good couple, I liked reading about them, and wanted them to be happy. The book has some amusing moments and that made it easier to go through the worst things. I think it's a pretty much balanced story, it feels balanced, not like other books where the bad things overshadowed the good ones.
Weaker points in the story: The author insists on showing the main character's childhood to make ther point. Ok, I get that. But in so many pages? I don't think it was that necessary. All the stories are a bit repetitive if one thinks clearly....good thing they're great stories.
I liked it, it's what matters, so far I'm not disappointed with the books, I have one to go and I left it for last because I hope for a wonderful book. I hope I'll end my list of the author's work with a smile...
This one is a winner, not the very best to me, but wonderful and well written, full of feelings and dialogue. It's great to spend some time in a different "world" as entertaining as this one.