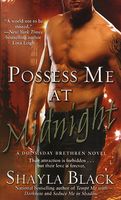 As a mysterious dark cloud drains the life of her beloved brother, Doomsday Brethren leader Bram, Sabelle Rion can think of little else. Still, every time she meets Ice Rykard's intense green gaze, her body aches with need for the sexy warrior. Their attraction is explosive, incredible -- and forbidden. As dangerous as he is unpredictable, Ice is her brother's sworn enemy. But as Bram weakens, a more sinister force is gaining power.
Evil Mathias and his ruthless Anarki army are on a bloodthirsty hunt for the Doomsday Diary. Sabelle must guard the potent book with her life -- and Ice vows to protect the beautiful witch with his. Duty demands that Sabelle deny her lover's fiery call of possession and mate with a man who can sway the magical Council against the impending rebellion. With the fate of magickind hanging in the balance, will she forsake the burning desires she can't ignore or turn her back on her people for the courageous man she can't resist?
Comment: When knew the 5th book in the series was only going to be released in 2012, I stopped my reading frenzy because I didn't want to be so long without a new book. So, finally I decided to read the remaining two books I have because the 5th one is close be released.

This book is #3 in the series and I loved it. I remembered why I enjoyed the other so much and how hopeful I am that this will remain a great series.
This is the story of Ice and Sabelle. He comes from a family not very proper so no one really welcomes him and if not for the fight against the Anarki, perhaps even in the Doomsday Btrethern he wouldn't be accepted. But he is wiht them and has feelings for Sabelle, one of the most important females in the Privileged families. It's a clear case of difference in the social status, btu from the moment they kiss, Ice realizes she is the one for him.
Sabelle feels the attraction and, with time, finds the feelings too but she has the fate of the magickind to consider because her mating might be part of the solution to help others understand how dangerous Mathias is and how deceitful he is acting.
The best think like about these books is how fluid they go, and how easy is to keep reading. I've had difficulties reading some books because things didn't seem to evolve from one point to another but in this case, I think this is well done and makes the story easier to go through. Congrats on the writing style.
About the story itself, I liked seeing Sabelle and Ice together and how well they suited each other. It's not so much a matter of chemestry, they have it yes, but it's the whole situation, the fact they seem so different...I can't explain it, but if makes sense to see them together.
Besides, the story moves along, we see some politics taking place but all in a very clear way and we also see Ice making up with Bram, yay. The bad guy keeps being awful and I can't wait to see him being defeated.
We also get glimpses of other characters, old and new and little tidbits that might be important for future books.
All in all, a great book. an't ait for more. It's not the best series in the world, no, but it delivers and I'm very happy with the way things are.