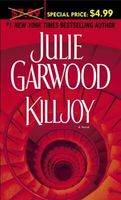 Her razor-sharp mind and ability to decipher evidence have made Avery Delaney an expert crime analyst for the FBI. Now she will have to use every one of her skills on a case that hits painfully close to home.
Avery's beloved aunt Carolyn was on her way to a posh spa in the Colorado mountains. But she never arrived. Now, with scant clues and fewer resources, Avery must track down Carolyn -- and outmaneuver a brilliant killer named Monk who is part of an elaborate plot of madness and lethal vengeance.

Comment: This is another book in the suspense series by the author. I've said before that this isn't the strongest or the best romantic suspense I've read, but I keep trying because sometimes we find interesting things where we least expect it.
This story is about John Paul, the brother of the protagonist from the previous book. In this book he keeps following Monk, the killer who escaped from the previous story. It's interesting that the author kept the same plotline in this book. The female protagonist is Avery, a young woman who had bad experiences in her childhood because of her mother.
At first these two didn't want to acknowledge the attraction between them but then they stopped. I think this was done too fast, one minute they wouldn't admit it to themselves, then they were already falling in love? Romance in stressful situations isn't impossible but it has to be well done (I always remember Diana Duncan's Truth or Consequences where this situation was done perfectly, in my opinion).
The story was interesting enough, I confess somewhere in the middle I read quite fast in order to know more.
One thing bothered me a bit, the villain's POV. Usually this is something I can do without. I don't need to read from their pov's in order to be satisfied with their reasonings or actions. I'm the kind of reader who's happy enough with knowing things secondhanded...but as always it depends on the story, style, emotions, many things but in this book especifically I could do without. To be honest I don't understand why we had to read from their pov's so many times, with only one time it was pretty obvious what they were up to.
In the end I liked reading it, it's not the best book I've read but it's definitely not the worst either.