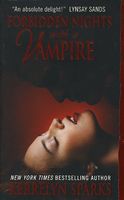 Vanda Barkowski is in trouble.
As the owner of a hot nightclub, she's more unconventional than most of her fellow vampires, and if some think her a little out of control, then so be it. But after three former employees filed a complaint about her temper, Vanda is sentenced to an anger management class. Worse, Phil Jones agreed to be her sponsor. Phil, the mortal who is forbidden to her . . .
If Vanda knew who--or what--Phil really is, she'd reconsider her attraction to him, for his true nature is wilder than anything she'd ever imagined. He has tackled the beast within and now is the perfect person to help Vanda with her rage . . . if only he can keep his cool when she makes him so undeniably hot. But with rogue vamps on the loose, will they ever have their forbidden nights?
Comment: I like this author's series a lot. I mean, books #1 and #2 aren't my favourites and I stopped reading them after those, but months later I went back and read at once, books #3, #4 and #5. All great reads and much funnier and interesting than the first 2.
In this book, we have the story of Vanda and Phil, two characters we've known for a long time. We knew they were attracted to each other but never acted on it, so now it's finally their turn.
Vanda has had a terrible past, both right before and after she became a vampire, and she is frightned of wolves, something Phil can't help but...being.
I think this isn't the strongest book in the series in terms of romance,. I that area I think books #3 and #4 are best, but in terms of plot, this is it. In this book, things happen and the war against the bad vampires takes a deadly turn and I think this will be the starting point in new plot possibilities. At least, it seems so.
I think the best thing about the series is the humour and the funny, cool characters in it. This isn't a serious series, it's not about perfection. The series focus on romance and vitality and sometimes we just want to forget things and be immersed in an impossible world, but full of joy. I think it's perfect to decompress from bad things, to empty one's mind of problems. Sometimes this is as important as a strong book.
I'll keep reading and in the next months will be up to date with the series.