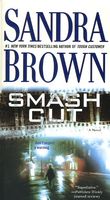 When millionaire Paul Wheeler is murdered, his family retains renowned lawyer Derek Mitchell to defend the victim's nephew Creighton -- although the police have not charged the young man with the crime. Wheeler's mistress, Julie Rutledge, who is also a suspect, believes that Creighton is the killer, despite his rock-solid alibi, and she'll do almost anything in her quest to prove his guilt -- even ruin Derek's career. But the more Derek learns of Creighton's darker side, especially his bizarre fascination with movie murders, the more he comes to believe Julie is right. The clock ticks down to a shocking ending as Derek and Julie join forces to find the truth. Has Creighton begun reenacting cinema's goriest scenes? And who will be his unwilling costars? They won't know until the final SMASH CUT.
Comment: Like I said somewhere before, I like Sandra Brown's writing style a lot. Her villains don't scare me but they repulse me because eve if they're killers, it's their lack of morality that makes me angry. Because it's so much more easier to picture somone like that in real life...
Anyway, I've read this book by her and I enjoyed it a lot. The suspense part is interesting but not too complicated or difficult to imagine it happening like in other of her books. It helps that we get the villain's identity so soon but even if we didn't, I don't think it would be hard to picture things.
I liked the fact we have some movie references, it's cool to see some of the author's influences and - perhaps - reasons of why to put it on the plot.
The relationship between the two protagonists is full of sexual tension, author's trademark, and a HEA. I usually like her HEA's but I'd like to see a bigger epilogue or, instead, an epilogue with a future with them, but I guess being this suspense, it would be a bit too much. Still, personally I'd like to have it.
There's also a hidden mistery in the story and it's a surprise in the end, although during the story we get clues it migth not be what it looks like. To me things didn't sound that predictable and I was glad to see I was right.
I suppose I can say this isn't my favourite book by her (nothing beats Where There's Smoke still) but it's a very good read, considering.

I still have some of her books to read, I don't have them yet, but I'm pretty sure I will someday, this author has some books I don't like that much (Hello, Darkness, can't stand this one), but most things by her are favourites in my lists.