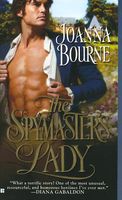 France and England,1802
SHE'S NEVER MET A MAN SHE COULDN'T DECEIVE...
She's braved battlefields. She's stolen dispatches from under the noses of heads of state. She's played the worldly courtesan, the naive virgin, the refined British lady, even a Gypsy boy. But Annique Villiers, the elusive spy known as the Fox Cub, has finally met the one man she can't outwit...
UNTIL NOW.
British spymaster Robert Grey must enter France and bring back the brilliant, beautiful--and dangerous--Fox Cub. His duty is to capture her and her secrets for England. When the two natural enemies are thrown into prison, they forge an uneasy alliance to break free. But their pact is temporary and betrayal seems inevitable. They flee, pursued every step of the way by ruthless authorities, caught in a net of secrets and lies. As the fates of nations hang in the balance, Grey and Annique fight the passion that flares between them--forbidden, impossible, and completely irresistible...


Comment: I decided to try this book several months ago and the book has been in my TBR list or allt hat time. I saw some people commenting how wonderful it was and I like historicals, so I had to have it.
The story is full of adventure, spies and romance.
Annique is a french spy and she knows about some plans where Napoleon will invade Great Britain and is running from an enemy who wants to kill her. Before she runs away from a prison, she helps two british spies as well, and they travel together for some time. During that trip, she gets to know one of them better and they start falling in love. After that, it's discovery after dicovery and in the end they must admit what they feel in order to be happy.
I liked the story a lot, I was thrilled to be reading about this couple and how their relationship was developing. They're both spies, people who don't trust easily but seemed to recognize the other immediatly and love just caught them. I liked seeing both of them rationally seeing the conflict it made because of their origin, but sometimes things aren't what they look like in the first place. This actually meant more than what the reader thinks because after a long time in the book we finally understand something about the heroine and I was completely what, this can't be, but yep it was and I was happily surprised! I've never saw it coming.
In the end, I liked how the plot and the characters worked well together and of course I loved the fact there's a HEA.
I'll look for more books by the author, for sure.