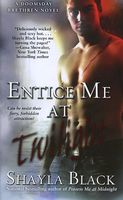 Dangerously handsome Simon Northam, Duke of Hurstgrove, and his uptight barrister brother hardly get along, but crashing Mason's wedding and stealing his fiancée take sibling rivalry to a new level. Duke's family knows nothing of his magical prowess or the Doomsday Brethren, so how can he explain that mankind's fate lies with the beautiful, tenacious bride he longs to seduce for himself?
Felicia is an Untouchable, a rare human whose presence disables magic -- even the impenetrable forces surrounding Morganna le Fay's tomb. The evil witch's malicious powers could propel nefarious wizard Mathias to ultimate world domination . . . if he can resurrect her. To conceal herself, Felicia must heed her simmering desires to mate with Duke, but he risks binding his life -- and sanity -- to a lover whose loyalty may be forever torn. He faces a terrible choice: betray his brother for ultimate survival . . . or lose the woman who tempts him beyond control
.
Comment: This is the 4th book in the Doomsday Brethern series.
Duke is going to be late to his half-brother's wedding but he's not that worried because he's attracted to his fiancé. Felicia isn't really marrying Mason for love, only because he's safe, but when Duke shows up saying she's in danger and kidnaps her, her world changes.
Duke has always been a bit mysterious, not the most lively character in the series, or with the most obvious behaviour, but I was curious about him. He's loyal and trustful and I liked him from the start.
Felicia has had a brutal past. She was an orphan and had some bad experiences in foster care, besides she saw her foster sister comite suicide over a broken heart, so she decided not to the same and when she accepts Mason's proposal it's because they're friends. However, Mason surprises her on the wedding day, saying he's in love with her so when Duke kidanps her, she's afraid, but in a way, relieved she can postpone Mason's hurt.
I liked seeing these two together. They both have to overcome their fears and embrace the idea they're destined to be together, soemthing Duke realizes as soon as they kiss.
Both are afraid to hurt Mason, because they both love him and don't want to "betray" him, but as a wizard, Duke needs Felicia and ciscunstances force them to mate because Felicia proves to be a key character to the plot. Still Duke doesn't tell her what would happen when everything is over and she can renounce him.
Felicia has some trust issues to overcome, she has to learn to see Duke through different eyes, but when it happens, it's believable she loves him.
The plot also goes forward, some new things happen and we're not very clear on how the bad guy "survived" the battle in the end of the book.
I like this world a lot, like I said before, the writing flows, which makes the story alive and easy to read.
Next book is about Lucan and Anka, can't wait to see them renovating their bond.
The author also said she planned writing Shock's and Bram's story for sure. Let's hope she doesn't take too long.