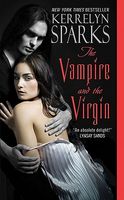 Olivia's packing list:
1. Sunscreen
2. Bathing suit
3. Flip-flops
FBI psychologist Olivia Sotiris was looking for a cool ocean breeze, sand between her toes, and a break from her crazy, chaotic, and sometimes all-too-dangerous life. But when she escaped to the small Greek island of Patmos, all she got were meddling grandmothers trying to marry her off. Can't they see that none of the men around interests her--except Robby MacKay?
Robby's packing list:
1. Synthetic blood
2. More synthetic blood
3. Jogging clothes
(even vamps have to stay in shape )
Robby needs to cool off, too, since all he can think about is revenge on the Malcontent bloodsuckers who once held him captive--but then he meets Olivia, the beauty with wild curls and a tempting smile. When a deadly criminal from a case back home tracks her down, Robby will have to save her life--along with giving her a first time she'll never forget . . .
Comment: Another installement in the Love at Stake series.
This is the story of Robby and Olivia. They meet in Greece, when both are in vacations, Robbie's are a bit forced but he is there.
I had hopes for Robbie's book, but from the title alone I could see it wouldn't be as interesting as others. And although it had funny moments it's nothing like the 4th and 5th books, real laughing material.
What I liked in the story was the constant presence of known characters, I like seeing more of characters that were protagonists before, who had central stage or not, it's fun to see them all as a family like this.
Also good was the evolution in the storyline, we see what the bad guys ared oing and although it's bad at least allows the story to flow which means more people can have HEAs. Of course, it's all a bit predictable, but thse books aren't misteries, so no worries there.
What I didn't like...the romance. I don't particularly like love at first sight stories and in this case it was also a bit rushed. Still, considering the circunstances of how they met, the issues in their lives and the natural fears a relationship could mean, I think it wasn't all bad, just rushed.
In the end, it wasn't a favourite but the world appeals to me, and I'll keep reading, the next one next month.