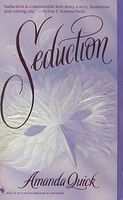 Townsfolk called him devil. For dark and enigmatic Julian, Earl of Ravenwood, was a man with a legendary temper and a first wife whose mysterious death would not he forgotten. Some said the beautiful Lady Ravenwood had drowned herself in the black, murky waters of Ravenwood Pond. Others whispered of foul play and the devil's wrath. Now country-bred Sophy Dorring is about to become Ravenwood's new bride. Drawn to his masculine strength and the glitter of desire that burned in his emerald eyes, the tawny-haired lass had her own reasons for agreeing to a marriage of convenience. One was vengeance, and in its pursuit she would entangle Julian in a blackmail plot, a duel at dawn, and a dangerous masquerade. The other reason was dearer to her heart, but just as wild a quest. Sophy Dorring intended to teach the devil to love again.

Comment: After asking for recommendations for this challenge I was immediatly eager to read this one as the february theme. For one, I loved all the books I've read so far that the author has written with this pen name, and for other, the story intrigued me.
Sophy refused a marriage proposal because she fears the man who might become her husband wouldn't accept her small demands while entering the marriage. She wants freedom enough to pursue revenge for her sister but it wouldn't be soemthing she could accomplish if her new to be husband would forbid her to be in london.
Julien, the earl, wants to marry her because he thinks, as she's 23 years old, she's more mature and he wouldn't have to worry she might be reckless like his first wife.
After the marriage both think they know what to expect from the other, but feelings start to happen between them and nothing goes as expected.
I liked the book a lot, the story is fluid and as always, the dialogue is witty and full of sarcasm, something I just love in these books. The idea of marriage isn't as easy as they both thought and they have to learn to cope with the challenges the other means to both their lives and hearts. I liekd the tomance a lot, like in most cases in this author's books, the romance storyline is slowly developped, but feels better because of that. It's not only the regency time that stops everythign from happening too fast, it's the whole characterization of the protagonists, I liked reading about them and to learn things, one step at a time,about them.
The story ends up a bit predictable but I knew what to expect and to be honest I wasn't disappointed; I was actually quite happy with it and had a great time reading the book. This wasn't the first book I've read by the author, my favourite so far remains The River Knows, but all the books I've read are fun and interesting to see, so always a good bet for me.
All in all, a good story, a good time and I want to read more in the future, for sure
.