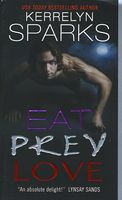 WANTED: Bride. Must love children. Mortals need not apply.
Carlos Panterra is looking for a mate, a woman who will love and care for the young orphans he's recently taken under his wing (or paw, as the case may be). When the shape shifter spies the beautiful Caitlyn, it's like sunshine amidst the darkness. At last, he's found the perfect woman, except ...
Caitlyn Whelan is mortal. Worse, her father is the head of a CIA agency bent on hunting the undead. Still, Caitlyn knows that Carlos is the man for her, shape shifter or not. So she jumps at the chance when her sister offers her a job to work with him, determined to show Carlos their attraction is more than just animal magnetism. But danger lurks in the night, and their unleashed, untamed passion might just get them both killed ...

Comment: Another book in the series by this author. The last one I've read wasn't anything special, but this one rocked!
I think it was very well written and the pace was perfect.
Carlos wants a mate to help him with some orphans as well as to continue the species because his kind is almost extinct, but it's not so simple because there are so few were panthers around and he feels time is getting away.
Caitlyn is reunited to her sister Shanna (protagonist of book #1) after a long time and in the same night she makes peace with her, she meets Carlos. The attraction is mutual but Carlos thinks a human mate wouldn't do and tries to get away but after Caitlyn accepts to work for Angus' company, they start working together and caitlyn decides to take the risk and goes after Carlos.
I think the story is very interesting, there was always something happening that made me curious and eager to know what would happen next. We meet new characters and close to the end there's even a feel of suspense and a new villain apparently arrives which means more possible storylines. I must say the plot is very interesting at this point.
The romance convinced me and the end too. I finished the book very happy with the way things were. Carlos accepted that some things aren't as predictable as they should and Caitlyn realised happiness isn't as simple as it she might want. The concessions both have done are believable and this makes the end much more perfect.
I can't wait for next one, if it's good as this one, I'm sure I'll love it.