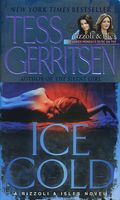 In Wyoming for a medical conference, Boston medical examiner Maura Isles joins a group of friends on a spur-of-the-moment ski trip. But when their SUV stalls on a snow-choked mountain road, they're stranded with no help in sight.
As night falls, the group seeks refuge from the blizzard in the remote village of Kingdom Come, where twelve eerily identical houses stand dark and abandoned. Something terrible has happened in Kingdom Come: Meals sit untouched on tables, cars are still parked in garages. The town's previous residents seem to have vanished into thin air, but footprints in the snow betray the presence of someone who still lurks in the cold darkness -- someone who is watching Maura and her friends.
Days later, Boston homicide detective Jane Rizzoli receives the grim news that Maura's charred body has been found in a mountain ravine. Shocked and grieving, Jane is determined to learn what happened to her friend. The investigation plunges Jane into the twisted history of Kingdom Come, where a gruesome discovery lies buried beneath the snow. As horrifying revelations come to light, Jane closes in on an enemy both powerful and merciless -- and the chilling truth about Maura's fate.


Comment: Another book by this author. I think I'm safe to admit that this author is currently my favourite in terms of suspense books. I think she's brilliant and her writing is pure perfection to me! Why? Because like I said before, she doesn't write from the villains' POV, she doesn't make me suffer through their perverted or psycothic minds and still her books are full of darker moments because of those characters. Besides, she writes wonderfully, I don't know if it's mainly her or if the editor's work is huge, but whichever way, the books just seem to flow easily when I'm reading them. I can confess I did read this whole book in one single day. Even with RL work to do!
The story...Maura Isles is away in a conference and as an impulse she decides to go on a trip with new friends but things start going wrong from the beginning. When they're in the middle of nowhere, with snow covering everything everywhere and one of them is deeply hurt with no apparent way of help coming their way, plus with a ghost city around them, things don't seem to be any worse, but they do get worse. And badly.
I'm once again amazed at this author's imagination, at the way she makes us think on a problem from a certain POV and then things change and that awful issue is actually due to a more simpler reason, it's brilliant! I read the book so fast, I just couldn't put it down, the rythmn of her novels, after they get going, it's great, it's fast and unpredictable. I always have a great time reading the books, even when the stories are harder for me to read (as it happened in Vanish), and I always end th book with the feeling it should have been bigger.
I have to thank a friend, she recommended these books to me, if it weren't for her, I wouldn't even know what I'd be missing!
For those who like thrillers, go for it, this author rocks!