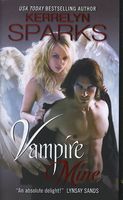 NOTHING ON EARTH CAN MAKE THIS VAMPIRE FALL IN LOVE...
After 499 years of existence, Connor Buchanan has arrived at an inescapable conclusion: he is a cold-hearted SOB. He's been watching his friends -- those poor romantic fools -- plummet off the cliff into love like a dazed herd of sheep. But not Connor. He knows that love leads to nothing but heartache.
UNTIL MARIELLE...
She is an angel cast down from heaven for disobedience. Trapped in mortal form, she finds a protector in Connor, a Scottish vampire haunted by a dark past. Marielle hopes to heal his broken heart and earn her way back home, but suddenly she has these . . . feelings. This strange yet pleasant physical yearning -- for a vampire! Is this the work of a demon luring her into hell, or has this angel found heavenly bliss?
Comment
: Another book in the Love at Stake series.
the previous book was so good or me I was a bit afraid this one might feel lacking and to be honest it is. I mean, the book is not bad, but when one compares it to the other one...and even if we say we don't, our inner reader certainly does.
So, this is the story of Connor, he's been lonely for a long time and always said he didn't understand why so many of his friends were falling in love, but Connor has had a bad experience because of love and his reasons seem likely when we know of them.
Marielle is an angel of death (and accidentally causes something that will change another something in the story - ha sorry about the cryptic message but it's spoilerish) and is stripped of her wings because she disobeyed to many times.
These two find each other and slowly each one learns something from the other and they fall in love. It's sweet, really.
Obviously this is fiction so it's understandable why Marielle doesn't know anything about her body and other things around her. But I must say some things seem a bit too much like when she didn't know she might have "private parts" like she calls it lol
The romance, like I said, is sweet and doesn't happen that fast, considering this is fiction, but it's acceptable in relation to the plot.
Talking about plot, finally some actions happen and I'm happy to notice that things do move along, in the last books many things happen and make the books more alive and in constant motion, it's not only the love story and the plot there to excuse the page number, no. The plot changes and I'm eager to know more things because what's been happening is very interesting indeed.
This is a series I'm very happy to be following. It's both funny and entertaining and has a happy ending every time, which is all this romantic fiction thing is about. Can't wait for the next one.