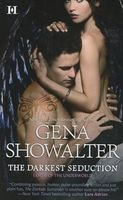 At long last, New York Times bestselling author Gena Showalter unveils the story of Paris, the darkest and most tormented Lord of the Underworld….
Possessed by the demon of Promiscuity, immortal warrior Paris is irresistibly seductive -- but his potent allure comes at a terrible price. Every night he must bed someone new, or weaken and die. And the woman he craves above all others is the one woman he'd thought was forever beyond his reach…until now.
Newly possessed by the demon of Wrath, Sienna Blackstone is racked by a ruthless need to punish those around her. Yet in Paris's arms, the vulnerable beauty finds soul-searing passion and incredible peace. Until a blood feud between ancient enemies heats up.
Will the battle against gods, angels and creatures of the night bind them eternally -- or tear them apart?
Comment
: The latest installment in the Lords of the Underworld series. We finally have Paris and his HEA, after so many books where he seemed more and more desperate.
Paris has always been a character that longs for a special person because he had so many people and is tired of not being able to have someone always, someone who could be with him and he could love, so when amazingly he feels he can be with Sienna more than once, he's ecstatic but of course things go wrong and he spends a lot of books mourning and looking for Sienna.
Sienna remembers everything that has happened to her since she met Paris, although her situation has changed and she too has a demon now.
For a while it seemed these tow couldn't be together, with so many obstacles in their way, but in this book they find each other for keeps. I liked how we've seen Paris grow up since he met and lost Sienna for the first time. He went down because he didn't help her like he could but his feelings remained true and I liked that he tried his best to be faithful, if not in actions (because of his demon), then in thoughts. Sienna also surprised me in this book because I thought there we go, we must see her accept things etc, but no, she was already accepting and able to go after Paris and that something we knew bounded them. It was good to see them fall in love for real.
However, I think the best thing in this huge book (more than 500 pages yay) was how the author presented so many issues and tried, a step at a time, to update us to them. We see a little bit of everything that was on course and it kind of tidies things up a bit. No solving of course, but at least we know what's going on. Some things are finally happening like we see Ashlyn's babies born and amazing who (and how) helps with that...we meet more characters too...oh and the end is WTF material because I certainly didn't see that one coming! But it's not bad. Also poor Kane, I sure hope he can find his HEA too...he must be next apparently.
All in all a great book, full of things, many information and tidbits to think about and now we just have to wait for the next one.