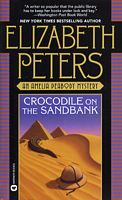 In Victorian England, A Woman Wasn't Supposed To Be An Archaeologist Or A Detective.
Amelia Peabody Was Both.
Thirty-one-year-old Victorian gentlewoman, Amelia Peabody has inherited her father's strong will as well as his considerable fortune. On her way to Cairo to indulge her passion for Egyptology, she picks up Evelyn Barton-Forbes as a traveling companion. Evelyn has a tarnished past, but both she and Amelia believe that it won't come back to haunt her. That belief is shattered when Evelyn is attacked by a walking, homicidal mummy.
Amelia enlists the aid of Radcliff Emerson, a prominent Egyptologist, to help unravel the plot against her friend and decipher the clues left by the mummy. Between grave digging and academic sparring, she manages to save his life. But with the threat of an ancient curse closing in, Amelia must resort to outrageous methods to prevent the mummy from making corpses of them all.
Comment
: I had this book in my TBR list for a long time I'm not even sure why I guess it was because the protagonist is a spinster (I usually like stories with this topic) but well, it's been there for ages and now that I decided to so a challenge it fit perfectly in one of the themes and finally it was its turn.
Amelia is a very determined person. She wants to travel to Egypt because it fascinates her and because she has the means to do so. On the way she finds and helps Evelyn and the Emerson brothers..and a mummy. All the characters find a way to have some importance in what happens during the story and the mystery gets more complicated in every page.
Well, Amelia's practical and she knows always what to do. Although I wanted to see a bit more of her vulnerabilities and we could see them here and there, still I think it wasn't enough to make me feel connected to her, to feel more empathy than the one needed. I mean, she was everything I think a woman should be but i wanted to see her admitting vulnerabilities and work on them and see some effort and somehow it didn't happen like that and I feel that, in the end she wasn't that appealing to me because of that. She was too focus to be a more agreeable character.
The rest of the characters was interesting but then the story...I know it was set in Victorian times so some rules had to apply and on that level I found the story enjoyable but the whole feel of the writing didn't seduce me. I actually thought some parts were rather boring. The mystery was interesting but, to me, not enough to make me eager to see it solved, I wasn't that interested in seeing who the villain was because I knew who was it and although I didn't see how, knowing the who and the why made me uninterested in knowing the rest.
The romances in the story were funny, but Amelia's not really...I expected more emotion, ok, it's historical, but still, it all felt so....aloof, too practical.
In the end I can't say I really liked the story, some parts were good but others not really and I don't think I will read more. I don't mean to say it's a bad book, it's just not something I enjoyed that much, I've read better both in historicals and in mysteries. But I recommend it for those who enjoy Egyptian stuff and light mysteries.