(Just a quick note to say sorry for being away for so long...sometimes time isn't enough for all the things we have to do and then to join the party there's family visiting, I don't know about you, but with my family visiting I can't do anything else besides entertaining them)
* * * *

Being a little wicked isn't all bad…
Every woman has a sexy demon inside her just waiting to get out, but for Eden Riley it's a little different. Her inner demon is named Darrak, and he's been inhabiting bodies for the past 300 years. In the daytime, thanks to her special psychic energy, he's able to take physical shape -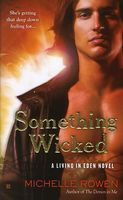 - a shape she wouldn't mind getting her hands on, if it wasn't a threat to her immortal soul…
Because of her possession, Eden now has uncontrollable black magic at her fingertips, and she and Darrak are trying to end the curse that binds them before the situation gets any worse. To do it, they'll have to get tangled up with some unsavory characters from the underworld. When sparks and spells fly, they could get the distance they need…or each have their own private hell to pay.
Comment:
I was so happy to have read the first book in the series I just had to read the rest of the trilogy - currently I did - and I wasn't sorry.
This second book is another set of adventures where Darrak and Eden try to find a way to break the curse that forces Darrak to possess Eden.
In this story Eden and Darrak are looking for a wizard to help them and maybe telling them a way how to break the curse without one of them dying or Eden turning into a black witch. However, the bad guys have some secrets that might be key to separate Eden and Darrak in a permanent, deadly, way.
I liked this story a lot. It took me just one day to read it all, the book is that good. I love the dialogue, it doesn't stop to amaze me how perfect it is, with the right amount of sarcasm/irony and fun. I smiled a lot while reading the book, even in the not so funny moments, only because the comebacks between characters was so well done and amusing.
Darrak and Eden are an interesting couple and not only because their living arrangements, they are falling in love and it's good to see how Eden sacrifices a bit of her pure soul to help others or to do things she shouldn't just because she has to help. And then it's cute to watch Darrak, this archdemon, to think and act to help Eden because it's the right thing to do and because he might be falling in love. The thing is, after so many human possession, some things start to root in him, such as...feelings.
The storyline isn't boring or stale. It moves along, we see things happening and it's both fun and gripping.
I recommend this to everyone. We see Lucifer show up too and his role isn't as evil as one might expect. Besides, some secondary characters give us a glimpse of the role they might play, although not too much, the focus is clearly in the main couple.
I'm not sure what else I can say without giving spoilers or having to explain the story, I just think the author has done a great job and by this point I was more than eager to read the last one, to see how in the world Eden and Darrak could be happy.