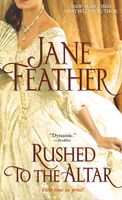 From New York Times bestselling author Jane Feather comes the first of a wonderful new trilogy, The Blackwater Brides, set in the sensually im-proper Georgian period, in which three noble brothers discover they will be forced to find brides under highly unusual circumstances.
Jasper Sullivan, Earl of Blackwater, needs a prostitute. Not in the usual way, however. His wealthy uncle's will promises to divide his huge fortune among his nephews if each rescues a fallen woman . . . by marrying her And since Jasper's estates were already mortgaged to the hilt before he inherited them, when he catches a pretty young prostitute trying to pick his pocket, he immediately makes his proposal.
Clarissa Astley is not at all what Jasper believes. The orphaned daughter of a prosperous merchant, she is searching the seedier districts of London for her young brother, abducted by their evil guardian, who wants the little boy's inheritance. But she needs powerful help, and the darkly handsome Earl of Blackwater is certainly that. So she pretends to be exactly what he assumed-- a risky charade for an innocent virgin. But when passion flares between Jasper and Clarissa, the deception becomes even more difficult to handle. . . .
C

omment:
Months ago, I've read something about this book and I followed my guts and ordered it. I'm not sure why...like in most cases with so many books in my TBR list...
Anyway, this is the story of Jasper, he's an earl in the Georgian years and together with his brothers, will receive an heritage that would solve all his financial problems, but the uncle who will give them the money has one request: that they marry and they have to pick a woman to reform, so they can be protectors and charitable at the same time. So each bother tries to look for a woman with a poor situation in life to help and to gain the heritage.
Jasper finds a young woman in Covent Garden and follows her to a brothel and so he thinks he's found the right woman to help him.
Clarissa is looking for her younger brother, he's only 10 and was abducted by their tutor who wants the family money. When she couldn't see her brother she left for London to look for him and bring him back home, but it's not so easy and the only place she could find to live while searching for the boy is the brothel but she isn't a prostitute. When Jasper tries to offer her a deal she accepts because she realizes it's the fastest and safest way to retrieve her brother and to ensure his safety so their uncle couldn't find them later.
The storyline is interesting and I liked how Clarissa seemed to dodge all the issues in front of her so no one around her knew what she aimed for and exactly who she was. That was fun and I cheered every time she managed to find an excuse for her actions or words. Of course the hero wasn't always deceived but still, she was great just by trying.
One thing bothered me, well it usually bothers me in these types of plot, I hate the way prostitutes are treated...it's...annoying that things had to be that way. Then Clarissa seemed to enjoy her new role, she wasn't a prostitute but acted like one to keep her plan and I was a bit put off by how easily she accepted that, considering she was from a small town and she does things to keep her lies that I didn't think young ladies in those times might do...some things were a bit too much, I think.
In the end, of course everything works out and they see they're in love. Jasper helps Clarissa with her brother and they end up happy.
Did I enjoy this book? I did. Not the best historical I've read but good. The story fascinated me and the character's personalities too. I just didn't like that much how they ended up together...it wasn't how I imagined and usually an author proves me I'm wrong but in this case I wasn't convinced they were really good together, as a couple. Anyway, I recommend it.