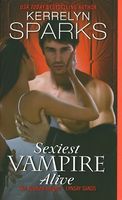 The secret is out ... Vampires do exist!
When a video reveals to the world that vampires live among us, it's up to "young" vamp Gregori Holstein, VP of Marketing, to persuade the U.S. government to declare the video a hoax. But first the president wants a favor, one that requires Gregori to spend forty-eight hours in very close contact with the First Daughter.
Abby Tucker would rather spend her nights in a lab than attend her father's state dinners. She's dedicated her life to finding a cure that will save her dying mother and needs only two more ingredients. To find them, she'll have to venture into the most dangerous region of the world -- with a vampire. Her Armani-clad escort may be Undead, but he still makes her heart race. And the greatest danger won't be the predatory hordes lying in wait for them; it will be her undying desire for the Sexiest Vampire Alive.
Comment
: Another installment in this series.
This time it's Gregori's story, a newbie vampire we've known since book #1 and that has fed from synthetic blood since then, never feeding of humans. This is why he is chosen to be a representative of vampires in a meeting with the president of the US. Since the vampires were revealed to the world, our heroes decide it's time to have an alliance in order to protect many good vampires from vampire hunts.
Then there's Abigail, the president's older daughter, a biochemist who wants to help her mother winning a decease but she needs some plants that exist only in China and vampires being able to show up anywhere kind of would help, so the president eventually allows her to go with Gregori and some other vamps there to retrieve the plants to her experiences.
Of course things aren't that simple and the evil new vampires (and a demon too) make an appearance again and this side of the plot line gets a bit more complicated because they're real bad vampires.
In terms of plot, things do get heavier, I mean, there's things happening, this isn't just another book about vampires finding love, it gets interesting and more deep the more it evolves...and I'm glad it still has some humor, something I've loved since the beginning.
The romance happened a bit fast. Ok, ok, it's paranormal, but still..too fast in my opinion. This means my idea of their relationship isn't exactly balanced but I guess they won't miss time to sort it out better. Some things about their personalities did make sense to justify some of their actions so in that area I was relatively happy with the way we were told about their motivations and decisions.
I think, comparing to other books I preferred in the series, this was a bit of a disappointment, not totally, just close, but it's hard to do the same thing over and over and not have some things better than others, but I hope the latest book, which I'll read next month, is one of the best sort.