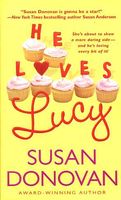 WHEN A JUNK FOOD ADDICT WITH A HEART OF GOLD...
Marketing exec Lucy Cunningham is thrilled when her firm lands The Palm Club account. The campaign concept for Miami's hottest fitness club was Lucy's idea: take one fitness-challenged woman, put her in front of TV cameras, and into the hands of the club's top personal trainer, Theo Redmond. And there's a big cash reward for each pound shed. It seems like a brilliant idea-until Lucy gets picked to be the guinea pig. It's obvious she needs to drop the pounds, but the idea of letting it all hang out in front of some Malibu Ken jock has her choking on her Milk Duds before she even begins!
MEET A FITNESS BUFF WITH BUNS OF STEEL...
After one meeting, Theo knows Lucy will be his toughest client and one of the most unforgettable women he'll ever meet. Smart-mouthed and stubborn, it's clear she isn't fond of marching to anyone's drumbeat but her own. But she shocks Theo by rising to the challenge like a pro. And he finds his heart in jeopardy long before Lucy starts to slim down and turn heads.
THEY FIND THE PERFECT RECIPE TO FALL IN LOVE!
As Lucy sweats her way into a whole new life, things start to heat up between her and Theo. But trust doesn't come easy for either of them. They've both been burned by romance in the past. Now Lucy and Theo are about to discover that appearances can be deceiving-and in the end, true love lies somewhere between pizza and Pilates...
Comment
: I decided to read this book because the heroine was said to be overweight and a bit shy but in the end she would get her HEA.
As always, these kind of themes are a must read for me.
Lucy works in a marketing agency and wants t start her own but before that she needs more money and in trying to loose weight for a tv show she might get it. Theo is a personal trainer who wants to get back to medical school..the money he'll get if Lucy looses weight will be a great help, so he'll try his best to help her.

What these two didn't imagine was to fall for the other and to work out some of their issues with relationships in the process.
I'm not usually a fan of contemporary romance because it tends to be very centered in the woman and her issues and not as much in the story, but in this case I think there was a healthy balance between it, plus the romance was fun to watch. Some of secondary ideas, like the antagonist who didn't Lucy to succeed in her loosing weight, were predictable and not that interesting in my opinion because it just seemed story dragging, but others, like Lucy's friendship with a supermodel were rather amusing.

The relationship between Theo and Lucy was believable because it didn't happen right away, it was as gradual as their getting to know each other. It also made possible to accept the fact he liked her sooner than her being skinner.
Lucy's issues with weight and why she gained so much were also believable...especially because each individual has their own reasons do act in a certain way, so it wasn't difficult to understand Lucy's reasons and giving up on herself for so long. It's very nice to think everyone is happy and the path to negativity happens because of major happenings but sometimes what's over the top for some isn't for others, and I liked knowing Lucy and her reasons while she also struggled to overcome them.
Generally speaking I enjoyed this story. I heard some comments by other people about how some of the books by this author didn't convince..I'm going to do some research and I might try another one, but so far, this one was a good experience.