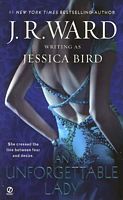 She thought she had everything she ever wanted--
until she met the only man she'd ever need.
Forced into the spotlight by her fabulous wealth, heiress Grace Hall isn't always prepared for the consequences of her standing. When a string of attacks against the city's most prominent women leaves Grace vulnerable, the refined beauty reluctantly hires a bodyguard. Now she finds herself subject to the ironclad will of her new protector. In spite of her frustration, Grace is drawn to John Smith in ways she can't explain. For beneath his tough exterior and dark past, there's an inner core that is tantalizingly seductive.
John knows that when you're a professional bodyguard, it needs to be all business. But such conduct makes for a solitary life with few ties and too many good-byes. Grace was supposed to be just another assignment on a long list. Yet there's something about her that gets under his skin. With each passing day, the attraction grows more intense--until John is faced with a decision he never thought he'd have to make. Can he give up the only life he's ever known to be with the only woman he's ever loved?
Comment
: This book tells us the story of Grace, a very known and rich heiress and John Smith, a bodyguard. They don't seem to appreciate the other in the beginning but after some deaths that have a connection to Grace, she asks for his services and then everything changes.
This book was recently published in Portugal, so I decided to read it because I confess I was curious to see how the author's writing would look like in a different genre, considering I like her BDB books so much.
First of all, the feel of the book. I've noticed the writing style is pretty much the same as in BDB books. Of course, considering it's the same author, but some writers can kind of camouflage things, depending on the genre, in a way that even tough we see it's the same person, it's like both things are from different sides of the author's mind, if you get my meaning. In this case, I was glad to see the author I love in this side as well, especially in the way the characters justify their actions, wonder about their reactions, the details of the thinking process. There are differences, obviously, but I felt myself relax when I read the first pages and things were...familiar.
The storyline was a bit predictable, but well, mainstream romance...and then the villain was a bit too obvious although I must confess my poor judgment and guessing skills because I only convinced myself about who it was after half of the book..*blushes* Yep, I'm pretty much an airhead about these things.
The romance. It was sweet but not entrancing. In this genre I've read better. I liked how they both discussed things many times and how slowly they progressed from antagonists to kind of friends to intimacy but John was always reluctant and I was a bit put of on how easily he accepted things in the end. I guess I'd have preferred if he admitted it to himself sooner, so it wouldn't feel rushed. I liked Grace's behavior and attitude and how she was humble and friendly despite her social position.
In the end I was glad for them but I wished I could see them together after because some issues - namely their financial differences - might still be obstacles to their HEA. Maybe in the 3rd book? Anyway, despite all, it was a very entertaining read.
I didn't investigate the author's books as mrs Bird, so I wasn't aware this is the second in related stories books (or should I say series?) so I've seen the couple from the previous one and I was intrigued by how their story might have developed so now I have to get it too...- I prefer reading things in order - ...but I have to say this story convinced me enough to want to find out if the others are as interesting.