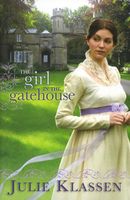 Mariah Aubrey lives in seclusion with her secrets. Will an ambitious captain uncover her identity...and her hidden past?
Banished from the only home she's ever known, Mariah Aubrey hides herself away in an abandoned gatehouse on a distant relative's estate. There she supports herself and her loyal servant the only way she knows how by writing novels in secret.
When Captain Matthew Bryant leases the estate, he is intrigued by the beautiful girl in the gatehouse. But there are many things he doesn't know about this beguiling outcast. Will he risk his plans and his heart for a woman shadowed by scandal?
Intriguing, mysterious, and romantic, The Girl in the Gatehouse takes readers inside the life of a secret authoress at a time when novel-writing was considered improper for ladies and the smallest hint of impropriety could change a woman's life forever.
Comment
: I've had this book in my TBR list since last year.
I don't even want to know how long many others have been there...
Hum, so this is an historical story labeled Christian fiction, which means it's all about the romance and the character's personalities and not the physical part of things.
I loved the blurb the minute I read it. But I confess I thought it would be much more emotional, I mean, it has emotion, but I wish it would be more passionate too..we can have passionate books without sex, this was what I hoped for.
The story is about Mariah, we first meet her when she's leaving her home, for some unknown reason at the time, to go live alone with a companion because her family doesn't want her there. We get the feeling she's done something bad. Mariah goes to live in a gatehouse in her aunt's estate, near the poorhouse, where many people live, including some that are key to the plot. Then, a man leases the estate in hopes to win another woman's affection, but there's a relationship happening and developing between Mariah and him, but Mariah is still afraid her past might ruin their friendship.
Captain Bryant wants public recognition of his value so he can be worthy of the lady he wants to marry and for his father to be proud of him. What he didn't count on was the mysterious girl in the gatehouse and how, with time, she would mean so much to him.
Well, in terms of plot, the story is very appealing. We want to see what happens next, there's a certain eagerness to find out some secrets and to see if some characters found out about Mariah or about other mysteries in the story. But considering the type of story, I think it's very obvious what happened to Mariah and how the book will end. The beauty of it it's in the descriptions, the way the author has written the story in such a way it becomes beautiful.
But like I mentioned, I feel it lacks some passion..it's all so...tidy, so organized. Beautiful and sweet, but
too
sweet. I would like to see the main couple express a bit more of feeling, of passion and not only in their inner thoughts. I get why is so, but it would make tis book more intense, which I think would benefit it.
Some scenes in the book are memorable for me, tough. Like when a group of people make fun of Mariah, I felt for her and having been mocked myself, the way she reacted felt real and emotional, for once. Also when young Maggie asks old Jeremiah why he has a hook instead of a hand, his answer touched me. So, in the small things many details bring life to the story, it's just the overall feeling that feels lacking.
In the end of the book more than one subplot is solved. To be honest, some things were a little bit exaggerated, I don't think coincidences happen like that although the explanations are very well presented. But everything together feels a bit over the top.
There's a HEA of course and I was glad to see it, to see the protagonists talk and defend themselves and even ask for forgiveness. It was a sweet touch to the story.
I'm not sure I'll read another book by the author so soon. There's another one, very well reviewed by some blogers and I'm curious, but my idea of lack of passion might not be the same as anyone else's so...thoughts to consider...