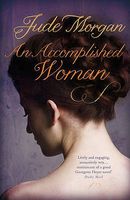 As a young woman, clever, self-reliant Lydia Templeton scandalized Regency society by rejecting the county's most eligible bachelor. Years later, although Lydia would prefer to avoid entanglements of the heart altogether, her godmother begs her to help her young ward make a suitable match. Though the prospect fills Lydia with horror, she can scarcely refuse, but things turn out even worse than she fears when her ward proves surprisingly tricky to manage and the confirmed spinster begins to suspect that her own heart may not be the closed book she thought it was.
Comment
: I've decided to read this book because of the blurb, which was very interesting due to the fact the heroine isn't young for the time when the action takes place and because she had already rejected a suitor and wasn't interested in love. I was very curious about how the author would make Lydia fall in love.
The book tells us the story of Lydia Templeton, a 30 year old woman who refused a marriage proposal 10 years before and now she's independent and self reliant. She is a very smart lady and very fond of her position in life where she doesn't depend on anyone. She also stayed friends with the man she refused because they're neighbors and she doesn't see any reason why they couldn't remain cordial.
One day, her godmother asked her to help a young lady, Phoebe Ray, to deal with her situation...the thing is, Phoebe fell in love and accepted the courtship...of two men. Lydia is asked to go along with Phoebe to Bath - a place Lydia detests - so Phoebe can see her suiters again and make a decision.
In Bath is also Mr Durrant, Lydia's suitor, because he wants to find a bride to make his nephew find an occupation instead of spending all the money only because he is Mr Durrant's heir.
These two things might seem simple facts but Lydia finds out nothing is as simple and while helping Phoebe she discovers her impressions might not be as clear and objective as she thought and sometimes what she took for granted can show her she was wrong.
This author is very similar to Georgette Heyer. Not the same of course, but similar, specially in style. It's a romance to read and not to see. I mean, it's not the romance itself that moves the book along, it's the story that shows us what's happening, nothing is explicit in here. The author's writing is very proper and straight which makes the story more seriously toned than what we might expect. But in my opinion this is what distinguish it from any others.
Lydia is an independent woman trying to help others with her solid and reliable advice but trying to make decisions for other, trying to influence them according to our points of view instead of what the other person is actually feeling can turn back on you and this is what happened to Lydia. She learned a great lesson and as a reader I liked that. I actually liked seeing Lydia facing the reality of her influence. As a human being I felt sorry for her, for the result she make possible but she wasn't aiming for.
Lydia also refused a proposal and these days she lives like she doesn't care, like it was something she doesn't regret. For a while I was convinced of that but during the book little details in several scenes made me believe she wasn't as peaceful with that decision as she appeared. The truth is, sometimes we react impulsively but then we think it's too late to turn back the time...in Lydia's case she learned a great lesson in being too proud and free because not always things work out that well. I was surprised by the end, it was quite emotional considering the tone of the whole book..but I was happy with the way it ended because I was convinced of the truth in their actions.
Another thing in there, by the end of the book, most characters seem shocked but Mr Allardyce's behavior. This characters understood something wrong and acted on it and most characters later decided he wasn't a true gentleman for thinking that. I don't agree..he proposed marriage to someone he thought was reciprocating. I can see why the others were surprised he acted on it when he was inclined to someone else at first but to me he simply...changed his mind. I didn't felt his actions were that wrong.
In the end I enjoyed the book a lot, I was happy with the way it ended and I had some good laughs because of one of the characters, mrs Vasser, how amusing she was while trying to be superior.
I also liked how Lydia, apparently an accomplished lady in everything, had something to learn, to live and to gain as well.