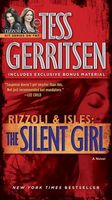 Every crime scene tells a story. Some keep you awake at night. Others haunt your dreams. The grisly display homicide cop Jane Rizzoli finds in Boston's Chinatown will do both.
In the murky shadows of an alley lies a female's severed hand. On the tenement rooftop above is the corpse belonging to that hand, a red-haired woman dressed all in black, her head nearly severed. Two strands of silver hair -- not human -- cling to her body. They are Rizzoli's only clues, but they're enough for her and medical examiner Maura Isles to make the startling discovery: that this violent death had a chilling prequel.
Nineteen years earlier, a horrifying murder-suicide in a Chinatown restaurant left five people dead. But one woman connected to that massacre is still alive: a mysterious martial arts master who knows a secret she dares not tell, a secret that lives and breathes in the shadows of Chinatown. A secret that may not even be human. Now she's the target of someone, or something, deeply and relentlessly evil.
Cracking a crime resonating with bone-chilling echoes of an ancient Chinese legend, Rizzoli and Isles must outwit an unseen enemy with centuries of cunning -- and a swift, avenging blade.
Comment
: Another book by this amazing author. She writes my favorite suspense books...I've repeated myself many times but this is it.
In this new book in the adventures of Rizzoli and Isles, they come across a crime in Chinatown. There's legends and stories around the plot based on that and the author has written a note in the end of the book saying it's a kind of homage to her mother's side of the family.
There was a awful murder-suicide in one restaurant in Chinatown 19 years ago and now a young Caucasian woman is found without her hand and she has a address in her pocket directing her to Chinatown. These two things don't have an apparent connection but because of a missing girl, we realize, chapter after chapter, that they do.
I loved the book. This author always delivers a good and solid story. Something we can follow and appreciate and with scenes from the lives of the two protagonists in there just to make the story more familiar, more realistic.
I like this because this makes Jane and Maura more human, more emotional and we can relate to them or at least to what they are faced against in their private lives. Jane has her parents divorce and Maura her posture as a professional threatened because a cop killed someone and she states facts when cops want recognition. It's a hard dilemma to go through but sometimes your conscience rules.
The story is very interesting and as always, evolves slowly but grows in intensity towards the end, which can be a bit predictable this time, but still amazingly nonetheless. You see there's two mysteries for the reader to investigate in the book: one of them is like I said, a bit predictable and the other one, like she always does, it's a surprise. The author does deliver.
I can't wait to read another book by Gerritsen, I hope it won't take very long...