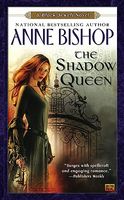 Dena Nehele is a land decimated by its past. Once it was ruled by corrupt Queens who were wiped out when the land was cleansed of tainted Blood. Now, only one hundred Warlord Princes stand--without a leader and without hope.
Theran Grayhaven is the last of his line, desperate to find the key that reveals a treasure great enough to restore Dena Nehele. But first he needs to find a Queen who remembers the Blood's code of honor and lives by the Old Ways. The woman chosen to rule Dena Nehele, Lady Cassidy, is not beautiful and believes she is not strong. But she may be the only one able to convince bitter men to serve once again.
Comment
: Once again, I've decided to read another book by this author. She writes beautifully about the lives and challenges in the character's lives.
This book is about Cassidy. She is a Queen without a Court because her former one left her for a younger, with a stronger jewel. She is still hurt over that and the awful words her former Consort told her. She's recuperating in her parents' house but will son be faced with a request from Jaenelle.
Then there's Theran Grayhaven, the last direct descendant from the Greyhaven family. His family was decimated during the rule of Dorothea, the villain in the realm of the blood. She was killed, as were all of those corrupted by power two years ago, but the remaining of her viciousness remains. Theran knows the Sadist (Deamon) has a debt to his grandfather Jared and asks for a Queen to help recuperating the land and the people in Grayhaven. Daemon accepts if Theran matches some requirements. However, when meeting Cassidy, he knows she's not to be his Queen but with a signed contract she goes with him.
Cassidy decides to help because she's tired of feeling useless but she also knows she's not the Queen for Theran. Still, she goes on because she figures after the year is passed - as signed in contract stipulation - she can return. But Cassidy wasn't prepared to fall for the land, to meet people who are her Court and to start friendships with so many people who not only need her, but start caring foe her and for whom she also starts caring about. Among them is Gray, Theran's cousin, damaged years ago and who is protected for those in Greyhaven. Still, no one would imagine Gray claims Cassidy and they slowly start a relationship.
I loved this book! I mean, I've loved all the books in this world the author has written and that I managed to read. I can't explain how the characters grow on you, how you start feeling they become part of your live for those moments you spend with them. It's a very special kind of magic if an author creates a world and fills that world with beautifully done characters and starts making them live. I can't imagine not being with them, it's the sort of books one can't help but dream about, everything makes sense and feels right because the way society is done, and how characters deal with their position in live, or how they treat their family, it's really special. This is obvious in this book and more than the story itself, it's the fact I got to see ordinary things done in the magical way of the world that appealed the most to me.
This book has a continuation and I can't wait to get my hands on it. Still, I can't help to note that there's a book in the horizon that originated many discussions and I admit it..I'm afraid of reading because just with second hand opinions I cry, so I don't even want to imagine reading it myself...For now I'll just keep the optimism with this book which was truly amazing.