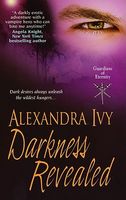 The One Man She Can't Trust
Two hundred years have passed since Anna Randal gave herself to Conde Cezar in a night of relentless passion. Since then, Anna has become filled with unearthly power she can't begin to comprehend. And the sexy, charming vampire responsible has eluded all of her efforts to track him down, until now...
Is The Only One
Cezar's blissful encounter with Anna cost him two centuries of penance. But one thing hasn't changed--his body's response to her is as urgent as ever. Now, commanded by the Oracles to keep watch over Anna, Cezar finds himself torn between his need to protect her--and to possess her...
Who Can Keep Her Safe
Someone wants Anna dead. And as an ancient enemy prepares to wage a terrifying battle, Anna must decide whether to succumb to a dark, burning desire--and accept a destiny that could change the world forever...
Comment
: Sometimes what we think we'll find isn't exactly what we get and once again I was proven exactly that.
I've read the first three books in this series a long time ago and when I finished them the 4th one was still due to be released. At the time I thought the author's writing, although with interesting plots, wasn't seductive enough, at least compared with other authors I preferred. At the time, the blurb for the 4th book didn't appeal to me (in a way it still doesn't) because, generally, I don't like stories when the protagonists have met before, or were in a relationship before. As it seemed the case with this 4th book, I didn't buy the book when it was out, and neither the ones after.
After all this time (more than 3 years, without a doubt), I've decided to get back to it and see if my opinion might be different after I actually read the book.
Well, one shouldn't rally judge something before knowing it because I ended up enjoying the book. It wasn't the best thing I've ever read but it was good enough for me to not give up on the series and to regret all the time in between.
This 4th book is the story of Cezar and Anna. They met two hundred years before the action takes place and they were intimate then. However, Cezar had to leave and didn't have chance to explain things to Anna and after all this time she thinks he had done something to her because she doesn't age. The truth is, Anna is meant to be a powerful being and destiny put Cezar in her path to help her, but he was called before they could really talk. Now, two hundred years later she is ready to confront him and know what is happening to her.
During the book, Anna learns several things from her past and why is suddenly being chased and why so many attempts on her life are threatening her new found love.
Ok, so I ended up enjoying the book much more than what I thought I would. I had forgotten how intense the story could be, how many interesting things were happening in that world, although I'm happy to notice there were many things I hadn't forget from the previous stories.
The writing didn't become the best ever, but it was engaging and it allowed me to easily read the book without getting bored. Actually it only took me one day to finish it.
The two main characters suit each other. Their relationship wasn't as obvious as I imagined and it surprised me, I was captivated by how they feel in love with each other for real. Anna's past is more profound than what I thought and it provided interesting plot details because it made the story move along and it gave some mystery to what she is or what could become.
I liked it and now I'm curious to see if the next one is as good as this one. I hope it is, because I hate to give up on a series it took me so long to get to know.