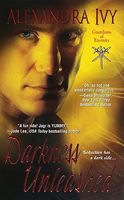 A scarred recluse, Jagr makes no secret of his disdain for others' company. But now, as a member of Chicago's powerful vampire clan, he has certain obligations to fulfill. The latest: track down a missing were pureblood and return her to her sister. The problem: Regan Garrett has no intention of complying. And though Jagr agreed not to harm an inch of this stubborn female's distractingly tempting body, he'll gladly kiss her into submission, awakening an urge he hasn't felt in years. Hell, in centuries...
Regan vowed never to be at the mercy of another man. That goes double for arrogant, steel-muscled vampires with eyes of ice. All Regan wants is revenge against those who imprisoned her. She doesn't need an ally. She certainly doesn't need a mate. But soon Regan will have to choose -- between a lust for vengeance, and a passion as dark and dangerous as the night...
Comment:
Another book I had to read by this author.
This time it was Jagr's story. This character showed up in the previous book and was described as someone who liked to be alone, not very interested in all the society dealings. He isn't a lone wolf simply because it would be too much work to defend himself all the time.
In the previous book he was asked to help a fellow vampire and now their leader, Styxx, has asked him to help in a mission, to recover Darcy's sister ant o bring her to Chicago.
Regan is Darcy's sister, and like her, a werewolf too. She's finally free after thirty years of slavery to an imp and now she only wants revenge against him. She's lived alone in a cage for so long she doesn't think her family is something she needs, but deep down her spirit hasn't broken and eventually she will recognize she needs to know who her sister is and how can she be part of her family. What she didn't count on was Jagr, he's bent in taking her to Darcy, but while she knows this she says that she won't go until she's got her revenge which means Jagr will help her only to speed things up. However, nothing is as simple and they even have to deal with the attraction and growing feelings and respect for each other.
I liked this book, it was easy to read. I don't think it was spectacular because it felt like a script. Things had to be done and the characters did so but it was...it felt like they had studied the script and then acted. I wanted a bit more of surprises, of something different. But I can't say it's a bad story because things happen, and the main couple falls in love in a way I think was believable, considering the time it took them.
The plot followed a certain continuation from the previous books. It can be read as a stand alone, after ll authors usually write things in a way to allow exactly for that, but I think many things are better understood if the reader has read all the books that come before. For instance, Regan was rescued and dismissed by the king of the werewolves but we get a better knowledge of the reasons behind his actions in book #3 and I guess, in the next one, but having read the ones until his book will provide a better background.
I liked how some characters from previous books show up. I love this in books, I love to see them alive and well.
The romance was ok. Believable and interesting to see. It had a bit of that old "am I good enough for you?" vibe in the end, but things worked out well. It had a romantic moment here and there but nothing over the top. I kind of wished to see it, though...
I'll read the next book (my last one) next month. I hope it's good.