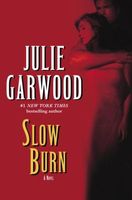 An unpretentious beauty who radiates kindness, Kate MacKenna doesn't have a bad bone in her body--or an enemy in the world. So why are bombs igniting everywhere she goes? The first explosion brings her face-to-face with a handsome Charleston police detective. The second one sends her into the arms of her best friend's brother--a Boston cop who's a little too reckless and way too charming for comfort. But Dylan Buchanan won't let emotion prevent him from doing his job: Someone is trying to kill Kate, and Dylan is the only one standing between her and the monster who wants her dead.
Comment:
Another book by this author. I still have another one to read but I have to admit I'm not screaming with joy over the fact...
The book tells us the story of Kate McKenna a businesswoman bent on turning her small business into a successful one and she's on the right track to do so. Unfortunately for her, Compton McKenna, her old uncle knows about her eye for the business and makes her the biggest benefactor from his will.
Helping her is Dylan Buchanan, the brother of her best friend and someone she's had a crush on since forever. When attempts are made on her life, they get together and Dylan protects her and helps finding the responsible for attempted murder on her.
I've decided to pick these books in the first place because of the promise of a suspense book with a strong romance. I was drifting in the greatness of amazing books from Karen Rose at the time and I wanted another author, writing the same genre, who'd give me the same feeling.
I was told about this author although I was informed not to expect such good romance to match the rest of the story. Still, I carried on.
After having read 5 books with this one I think I'm giving up. I have another one but it's not in a single book, I have it as part of a collection in a bigger book and it's more difficult to carry with me, so it's not as easily accessible as that. The thing is, in all books, the romance isn't that good. It's tasteless, bland. They meet somehow, blah blah blah, but I don't feel real chemistry between them. It's like they're a couple because it suits the story and without real emotion, no can do.
You might say, well, it's fiction, how could they show real feelings? I'll answer: like many authors do in their books (and not always focused on romance), also these could show a bigger sexual tension between the couple, more scenes with them interacting outside a romance set up juts so we could see them in a different register, more scenes with them thinking about the other and what it meant, more clues with other characters speaking about them and so many more ways, but somehow they could be seen more romantically involved before admitting or acting on their love. In ms Garwood book's this doesn't happen.
Then, the story itself, this one like so many others have an interesting story behind and some things do catch my interest, but overall, I've read better. If I were to exclude the romance and leave only the suspense, it wouldn't be as gripping as one might think. Fine, this one provided a villain I wasn't expecting but the tone of the book, the way things are said, I don't know, it's all so...normal, almost boring.
I guess this author isn't for me and it took me a lot of books to see it, but I had them and how could I judge without trying...
So, what else can I say about the book, I was glad the bad guys were caught, the end was very adequate for the characters, but it didn't move me and I wasn't left wondering about them. I confess I was already picturing my next read.
Anyway, it's good enough to pass the time, but it's not the most vibrant or thrilling thing to read, in my opinion.