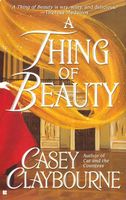 Belinda Croft had never been accepted into high society--having sacrificed fashion and frivolity for science and education. When Sissy, her birdbrained cousin, appears before the first big ball of the season with a blemish, Belinda applies a simple remedy. Sissy's debut is a success--and word of her bluestocking cousin's new face cream spreads like wildfire.
As London's upper crust seeks out her secret recipe, Belinda becomes a valuable commodity--sought after by the mysterious and handsome Marcus Barrow, arbiter of taste to the haute monde. She melts in rapture under his hot gaze--a gaze that sees beneath Belinda's plain wrapping to the dazzling woman inside. But when Sissy questions Marcus's true motive, Belinda must discover whether their love is more than just skin deep... .
Comment:
Another book that has been in my TBR list for a long time, since may last year, actually. I got this book because I've read somewhere the heroine didn't think she was pretty or interesting. I like these kind of plots simply because I like people understanding their value even if it's for just one person (usually the person they love). I'm a romantic that way.
Anyway, I wrote down the title, got it later and this month it was finally time to get to it.
This book tells the story of Belinda, a young lady that doesn't care much about society or about looking good. She cares more about her father and her scientific research. When her cousin finds a pimple in her face the day she is to make her debut to polite society, she fears her fate is sealed but Belinda tells her of a potion that might help and by mistake picks the boot polish. The miracle cream however, is a success and ladies want to have a bit of the cream for themselves too.
At the same time, a game of politics sets in motion Marcus's trying to find if the cream is real or not. As the heir to an earldom, Marcus must prove the cream a deceit in order to gain his lands, but after meeting strange Belinda he starts falling in love...
I was rather disappointed with this book. I thought it might be a wonderful love story but it's all so meh, I mean, things happen but I wasn't immediately captivated by the main character's relationship of by their developing feelings. I don't think it's a bad story, I just think it could have been told differently. So, in the end, I think it's a matter of the author's way of writing, which is grammatically correct but not very addictive.
The plot is curious and some things intrigued me, but once again, I wasn't surprised or eager to read more. I did because I wanted to finish the book but it's not a very catching writing. Good plot, but not the best way to treat it.
Belinda and Marcus seemed to do things in a believable way, some scenes had the potential to be funny or more arresting, but I can't say I was mesmerized bu them. I think a more captivating way of telling the story could have brought another flavor to the plot, a more interesting one.
In the end of the book Marcus is facing a choice and he made the loving one, which is great but things ended up with an epilogue where the couple's happiness is complete but I wasn't convinced of the way Belinda got that final piece of happiness. It's what I wanted but not the way I think should have happened. Oh well.
I don't think I'll read more things by the author, after having read so many books it's inevitable to compare writing skills and to me, there are plenty of authors who've convinced me more of their talent.