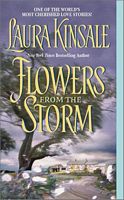 He is London's most notorious rakehell - a charming, irresistible seducer possessing a brilliant mind and reckless passions. Until, in the wake of a shocking tragedy, he is condemned to a world of shadows...and madness.
An innocent beauty of modest birth and simple faith, once she feared the dashing nobleman who awakened within her feelings she had never known. Now she has come to free him from his solitary torment - never dreaming her warm, healing touch will eternally bind them together in need, in desire...and in love.
Comment:
This was one of my favorite books of last year and the best historical without a doubt. The book is translated into Portuguese but I never paid much attention to what people here said about it. I also never went and read opinions in other places although I always had the idea it had difficult scenes to read.
I got this book as a Christmas gift..from two year ago....shame on me....but I thank my friend Hannah for her wonderful insight and idea lol
This year I've decided to read it as part of the challenge I participated in. It's the read of December, something offered.
The book tells us the story of the Duke of Jervelaux and how dashing and brilliant and a rake he is. One day he has a kind of stroke and his life changes. Before nowadays medicine and diagnostics when people changed like that they were considered mad and so was the duke.
However, Maddie decides to help him because he had been kind to her father, a blind mathematician who shared work with the duke. Maddie realizes the duke isn't mad, he's just changed and tries her best to help him and to make him regain what he is losing...
I liked this book a lot, to be honest and once again I asked myself why it took me so long to get to it...
The story is powerful, intense and makes you glued to its pages until the very last...I had much difficulty to put the book down because of real life demands, I wanted to read the book in my little cocoon and pretend there wasn't an outside world.
I thought the author was very clever in writing this story from the two main character's point of view. I liked seeing what the duke was thinking even in his worst days. It seems she's done quite the research on patients who had the same problem to make her story more plausible.
Interesting also was Maddie and her religious group, Friends. I've never read a book where one of the characters belonged to this religious group and I learned quite a lot.
By mixing the two we see the duke forced to understand his life won't be the same but if he surrounds himself with people who care about him, things will become easier. And Maddie sees the duke is only like that temporarily, she believes in him and has faith his sickness will be over one day.
I liked the romance of it all, the faith and the hope and the miracles that seem to happen. Maddie gives up a lot of her life to help and care for the duke and I loved, absolutely LOVED seeing them together and believed in their developing feelings for each other.
The book starts when the duke and Maddie's father are going to present a paper and we see Maddie isn't very fond of the duke, something that made me even eager to see them happy, I like it when they don't seem to connect at first. Some scenes were very strong, hard to read...to imagine..but I think the author did a good job in making the reader feel empathy towards them and even the harsher moments didn't seem so bad when we consider the HEA in the end.
This was the first book by the author I've tried but I think it won't be the last. I still have in my head after all these weeks, how the duke convinced Maddie she was the one for him and how perfect she is...*sighs*...
I feel like reading it all over again!
I really recommend it to everyone who likes historicals.