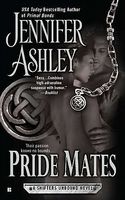 To most, they are animals -- even when in human form. They are to be collared and kept on the fringes of society, scorned because they are feared, hated for their extraordinary powers. And attorney Kim Fraser has to go right into the heart of their lair.
It's her job to defend those in need. But there's absolutely nothing defenseless about Liam Morrissey. His soft Irish lilt and feline grace can't disguise his sheer strength. Nor can the silver chain at his throat, designed to control the aggression of his kind, completely reassure her that this man has been tamed.
Yet when a feral shifter begins to stalk them both, Liam is the only one she trusts with her life. She'll let him claim her -- for her protection, for her pride, and for a passion that knows no bounds.
Comment: I've had this book to read for a long time, I don't know exactly how long. I've been putting aside the reading of the book for one reason, if I ended up enjoying it, I'd want to have as much released books possible to keep reading the series without waiting months and months for the next one.
Well, after reading this one, I have to say I wasn't as dazzled as I thought I might be, but I'm curious enough to keep going.
This story shows us a new world, where shifters are recognized in the law. They wear a collar that represses their aggression and fighting instincts, something humans think controls them and makes them safe to be around. However, there's still much prejudice and shifters live in communities, in cities that are made of only shifters or mostly.
Kim is a human lawyer, she's never been around shifters before but goes to a shiftertown to meet their representative and to discuss Brian, a shifter that has been charged of murdering his human girlfriend. When meeting Liam, the wild cat shifter, Kim feels very attracted but she's also afraid despite his collar. Still, in order to have help she agrees to visit the town and Brian's mother and that first step is just the beginning of many.
Liam is a pretty relaxed guy but his attraction to Kim starts a change in his life and the life of his town, something much more deep than what he might think...
I thought the blurb was very convincing. I love stories with shape shifters, and well done, it's such a magical way of seeing people that are different achieving happiness. I like the changing shapes, the idea of just a mate for each shifter, and more important, the pack mentality, where everyone feels safe with the rest of the pack, where family and friends enjoy a common community that supports and helps everyone. It's a very magical ideal, I think.
In this case we get this idea and for that alone I'd have loved the book. But it's not enough to build a good story or should I say, a good romance. The main couple has to have some sort of appeal and chemistry for the book to work. In this aspect I was also happy to see them get along, loved the fact Kim asked a lot of questions about shifters not only to help Brian but also to know Liam better too. Still, a thing bothered me a little bit. She accepted everything quite fast, fine with that, it's a book with a deadline she has to deal with things. But I don't know, I feel she could have taken a bit longer to say yes to everything, to accept those new things as a fact set on stone. She was new to that culture, she was afraid at first. I get she's a strong and determined person, but it would feel a bit more natural for her to feel some more resistance to everything, specially when thinking about the time frame, 3 weeks, I think, that took her from not knowing anything specific about shifters to be deeply engrossed in their lives.
Despite this, I liked the book a lot. It has many details I enjoyed reading about, like the way a shifter family works, some culture facts about mating and power struggles and even individual recognition in the pack structure. It had a lot of information but usually first books do and this actually didn't bother me because I found the information interesting. And most times it was given in conversation so it seemed more part of the story than just dumping it somewhere.
The secondary characters were fun to know about, most of them. I'm curious to see them in future books.
I liked how it ended, it had some great scenes and overall, a good story, a mostly different take on the whole shifters concept but still good enough to enjoy. I'm certainly going to read the next one.