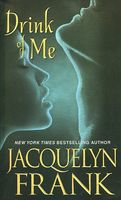 In a world where emotion can be a deadly weapon, one slight, battered runaway holds the key to a dark and twisted enigma...
Drink of me, she whispers, her silver eyes trusting, pleading. What female dares speak such words to one of the Sange? His people are scorned by every race for their fierce sensuality, their fearful rituals. And as Prime, Reule is the most telepathically gifted of them all.
But nothing has prepared him for the intensity of emotion radiating from the outlander rescued by his Pack. Terrified, tormented, but beautiful beyond measure, Mystique shatters his legendary control. As she reaches for him in the steamy heat of the healing baths, he knows this blind need can have but one end...
In blood, in knowledge, in ecstasy.
Comment:
I've read this book for a book club, simply because it was a stand alone..so few of these nowadays, right?
I've previously read a series by the author and my overall opinion was good, although not in a straight line, I mean, some were great, others not so, but if I were to talk about averages, then it's good. Still, I wasn't planning on reading any more books by Mrs Frank but the opportunity was there and I decided to try this one.
This book tells the story of a group pf warriors, the Sange, who are going to attack a pack of jackals, beings whose main interest is to destroy things around them. The leader of the Sange hears a psychic cry for help and feels immense sorrow through that cry. The group rescues a woman whose race isn't known to them but while the leader is carrying her she says to his ear something only Sange are known to say and he feels intrigued.
The woman has amnesia and she doesn't remember anything but her powers start slowly to show up and she ends up helping the warriors and soon she and Reule, the Sange leader, start developing serious feelings for each other...
I liked the book but it wasn't the most amazing thing ever. It was a solid story but it could have been better.
The story is about a group of men, the warriors of the race and they share a sort of mental link, call themselves pack but drink of their mates like a vampire although not living in the dark...it was strange to picture because of the so many influences of paranormal worlds out there I couldn't stop thinking about all things apart and that slowed me down a bit. However, the character's role and their powers and their relationship was intriguing to see and the main reason I liked the book. I also think it could have been more explored and in the end things could have been better done and the story wouldn't feel rushed or too long...but it's just my opinion.
The romance was fine...very hot and with interesting scenes. It happened fast but in a way I didn't feel it was such a bad thing in this case.
The main female character was a mystery from the start and I was curious about her and her origins but in the end the way we finally know about her life before being rescued was a bit too obvious, I'd have liked to see a different way for us to know about her. But her character was intriguing from the start and it was also fun to see her behave with Reule. Plus, her powers were useful and it allowed more intrigue development.
Like I said, overall, it felt like a solid read and allowed for a good reading, entertaining and intriguing in many moments. But my reading experience wasn't the best, I on got the story as an ebook and the format was only readable in my PC with Adobe Digital Editions. This reduced a lot of my time for reading and it became troublesome and boring to read like that, so it took me much longer to finish than what I usually take for a lighter but entertaining book. I've tried to overlook that but in a way, it was all part of the reading experience and after reading ebooks in my ereader, going back to PC was a struggle.
Still, a good solid book, could be better, but intriguing enough to keep reading, although missing some sparkle.