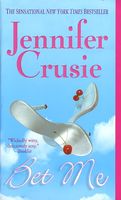 Minerva Dobbs knows how to work the odds.
Calvin Morrisey always plays to win.
But when they face off, neither one is prepared.
Because when real life meets true love, all bets are off. . . .
Minerva Dobbs knows that happily-ever-after is a fairy tale, especially with a man who asked her to dinner to win a bet, even if he is gorgeous and successful Calvin Morrisey. Cal knows commitment is impossible, especially with a woman as cranky as Min Dobbs, even if she does wear great shoes and keep him on his toes. When they say good-bye at the end of their evening, they cut their losses and agree never to see each other again.
But fate has other plans, and it's not long before Min and Cal meet again. Soon they're dealing with a jealous ex-boyfriend, Krispy Kreme doughnuts, a determined psychologist, chaos theory, a freakishly intelligent cat, Chicken Marsala, and more risky propositions than either of them ever dreamed of. Including the biggest gamble of all---true love.
Comment
: Following this month's theme for the challenge I've picked a book that was recommended to me. It was a recommendation by a couple of friends last year, actually. I mean, I have read books by the author but like so many others whose books I've enjoyed, this one got a little bit "forgotten"...*shamed face*. So, last year those friends were talking about her books and I said I've read 4 of them, not this one. They said I should though, so I bought the book and decided to read it. I got in June.
So, this is February and I finally decided to get into it and it would serve this month's theme as well.
Bet Me is the story of Min Dobbs and Cal Morrisey.
Min is an actuary and a bit overweight, a fact her mother doesn't let her forget. The book starts with Min being dumped by her boyfriend and later she's the target of a weird bet, which she hears about and decides to get revenge on the poor guy who accepted to get her to bed for ten dollars.
Cal didn't really accept the bet but he went with it just to end the conversation with David, a client. He goes with Min and they have a witty conversation but don't think there's any point in keeping up the pretense so they say their goodbyes in the end.
However, fate seems to hammer them with clues on how they're meant for each other and in the following weeks, Min and Cal get themselves together very often until it becomes clear they should get each other a try.
I really enjoyed reading this book! I think it's bigger strength is the dialogue. I loved the way everyone talked and all the comebacks. It was quite the fresh story on dialogue because it didn't seem forced or rehearsed, it was almost like it just popped to the character's mouth although I know the author has certainly spend time on it. But it did feel real and funny.
I liked the overall story too. I'm not a huge fan of contemporaries but lately I've been reading some interesting ones. This was fun and cute and with great scenes, loved the one with Min having diner at Cal's house. I always fear contemporaries might degenerate into chick lit, which usually annoys me a lot, I'm not into the whole idea of whining about a boyfriend or the drama of fighting with one's mother, its just not something I enjoy and when starting a light contemporary I get the idea I might see it and automatically prepare myself. This means I was overjoyed to read as fast as I could because the story and the characters weren't anything of what I expected. Sure, I've read before books by the author, but one never knows, a book is a whole new world we must set ourselves to find out about.
Like I said, the characters were a great surprise. I liked knowing them and understanding their motivations. I liked Min and the fact she knew she was overweight and still let her mother make her feel guilty. I understand why she did it because it's not so easy to put aside things family tell us, in everyone there's the need to feel acceptance and Min was surely trying to get hrs even at the cost of her self esteem. Although, she was smart enough to understand things and she managed to feel happy and glad at times, especially when around her friends. Nothing like a support system to help us.
Cal was intriguing, he was described as a ladies man, never to commit but he seemed taken by Min pretty soon even when they agreed not to extend their relationship further than their first date. But during the book we saw him and more of his personality come forward and I liked him and even more because he didn't see Min's problems, to him, she was overweight but lush, she was angry but witty, she was perfect for him.
So, the romance was great, and with so many steps to the big finale it didn't seem rushed either.
The secondary characters were fun too and I liked most of them too. I think the author really knew how to "built" a cast to this story and it's almost like everything just goes with the flow, it seems easy.
I think the book is a winner for sure. It has some hidden lessons for us to think about and interesting tidbits about several subjects, from how to cook, how to feel worthy, how to deal with dyslexia and how to stand up for yourself, and even how to defend your loved ones from bad influences in his/her family :)
I was very glad to have read the book, I couldn't out it down and to be honest I was up until 3pm just to finish it. It's a very easy read, but cute and addictive. I think anyone would enjoy it and despite having being released back in 2004, look at me, I just read it and it was great, and it won lots of prizes in its year.
Anyone else should try it too, it's never too late to read a good book.